Jewelry Blog Rockford, IL
Auction Reminds Us: Elvis Presley Loved to Give Away Jewelry to Friends and Fans March 12, 2019
Every time Elvis Presley's personal jewelry comes up for auction, we're reminded of the singer's legendary generosity. You see, for all the treasures Presley kept for himself, he gave away nearly as many, according to his personal jeweler.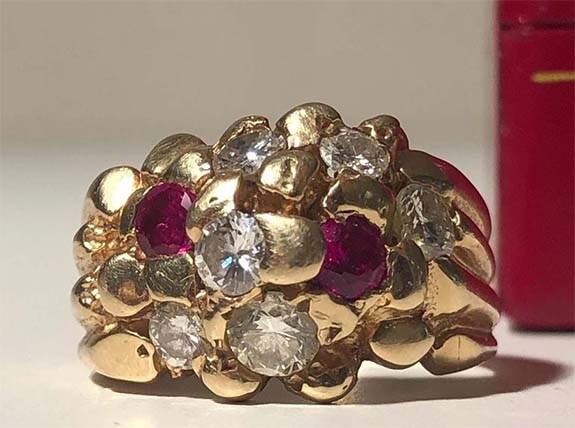 Presley famously wore gem-encrusted rings and pendants, and often gifted the jewelry to friends, colleagues and fans. It wasn't unusual for Presley to wear a favorite piece and then present it to a staffer who admired it.
The diamond and ruby 14-karat gold ring being offered for sale today at UK-based Omega Auctions was originally owned by the King of Rock and Roll, but was gifted to a fan after a June 1975 concert at the Hofheinz Pavilion in Houston.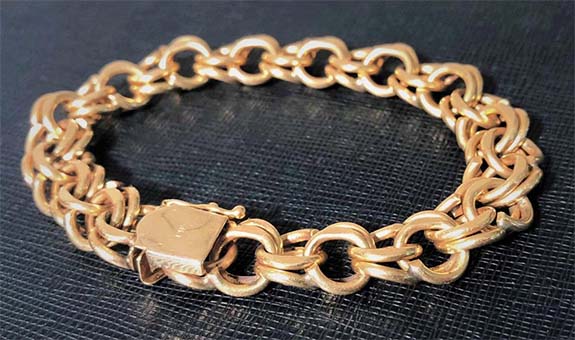 That ring is just one of a series of Presley's personal pieces that will hit the auction block today. Another auction highlight is a gold bracelet that had been gifted to Sam Thompson, Presley's friend and member of his security team. He gave away the bracelet when they worked together in Las Vegas in 1976. Both the ring and bracelet are each expected to sell for about $13,000.
Presley often traveled with his personal jeweler, Lowell Hays, who would carry around a suitcase full of gemstone-adorned baubles.
During a 1975 show in North Carolina, Presley asked Hays to bring the jewelry suitcase onstage. Hays said Presley was in "one of his moods" and started handing out jewelry to the women in the front row.
"So when the show ended, I ran out the back door and jumped in Elvis' car and I said, 'Elvis, I'm embarrassed. I just wish I hadn't been here and then you wouldn't have lost all that money. You just gave away all that money out there!'" Hays recalled. "And he looked at me and he laughed that little Elvis laugh he has and he said, 'You know what, Lowell? I'm going to have to sing five minutes more tomorrow night to pay for it.'"
Hays explained that among Presley most cherished jewelry possessions was the "TCB" ring the jeweler crafted for him using 56 diamonds, including an 11.5-carat solitaire. "TCB" stood for "Taking Care of Business," Presley's mantra and also the name of his backing band.
During a 2017 interview with billboard.com that marked the 40th anniversary of Presley's passing at the age of 42, Hays recounted an incident that earned him a coveted TCB necklace, a piece of jewelry normally reserved for Presley's inner circle.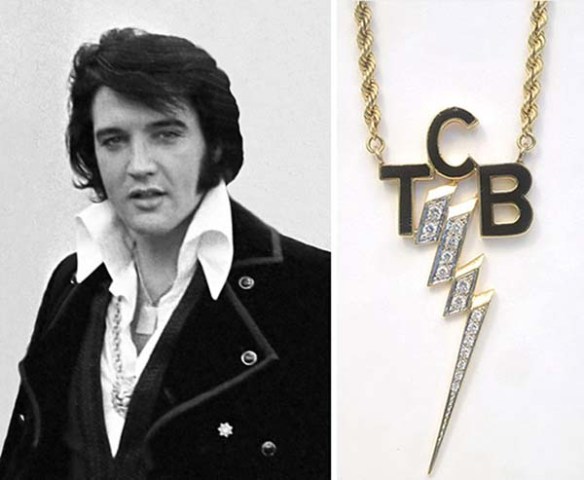 Hays was attending one of Presley's shows at the International Hotel in Las Vegas when he noticed a man trying to sneak on stage.
"Elvis is pointing [at the guy], but the bodyguards aren't paying any attention," Hays told billboard.com, "so I bailed out of my seat and took care of it."
After the show, Presley ripped into his bodyguards. Then he asked Hays if he had any TCB pendants in his case. Hays handed the jewelry to The King, but then Presley gave it right back, saying, "It's about time you had one of these."
Credit: Image of Ring and bracelet via omegaauctions.co.uk. Image of Elvis Presley (1970) by Ollie Atkins, chief White House photographer at the time. See ARC record. [Public domain], via Wikimedia Commons. TCB pendant via auction.graceland.com.