Jewelry Blog Rockford, IL
$24 Million Australian Opal Centre Starts to Take Shape at Lightning Ridge March 13, 2019
A world-class facility dedicated to Australia's national gemstone is taking shape at the edge of the outback in New South Wales.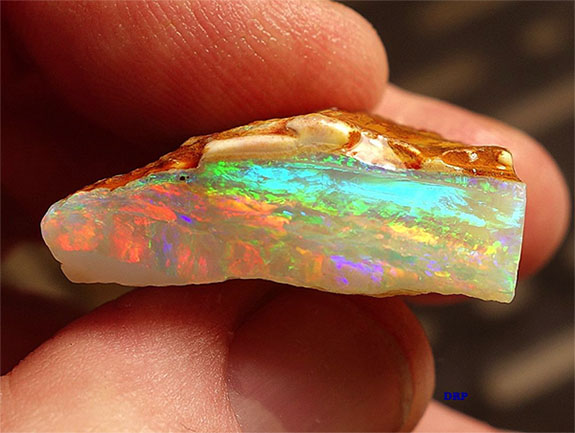 The new Australian Opal Centre in Lightning Ridge — a two-story underground building designed by internationally renowned architects Glenn Murcutt and Wendy Lewin — will be filled with glittering treasures from the earth and the stories of the people who found them.
National, regional and local officials have already raised $14 million to launch the $24 million project. The Australian Opal Centre will be a world-class tourism attraction and an internationally recognized hub for opal-related knowledge, training and certification. In 1994, opal was declared Australia's National Gemstone.
Opal is often referred to as the Queen of Gems. It boasts every color of the visible spectrum, from deepest and clearest blues and greens to rippling golden orange. Opal's hues also range from delicate pink and violet to rich turquoise, shocking vermilion, carmine and fuchsia.
An opal may contain any or all of these colors, arrayed in wondrous patterns. Opal experts have given these patterns names, such as harlequin, pinfire, Chinese writing, flower garden, mackerel sky, flagstone and rolling flash.
Opals get their color from tiny spheres of silica dioxide. The spheres are so tiny they can only be seen using an electron microscope.
About 90% of the world's finest opals are mined in the harsh outback of Australia, where a unique combination of geological conditions permitted the formation of opal near the margins of an ancient inland sea.
Interestingly, 95% of the opals found by miners is void of color. These specimens are white, grey or black. The locals call it "potch" and it has very little value. Potch is composed of the exact same mineral as fine opal – spheres of silica dioxide. The only difference is that in potch, the tiny spheres are jumbled, whereas in precious opal they're all laid out evenly.
The value of a fine opal is based on a number of factors: Brightness, color, pattern, body tone and consistency (how it looks from multiple angles).
Fundraising for the final stage of the Australian Opal Centre will take place while the first stage is constructed and opened to the public. The facility in Lightning Ridge is an eight-hour inland drive from the coastal city of Brisbane.
Credit: Image by Dpulitzer [CC BY-SA 3.0], via Wikimedia Commons