Jewelry Blog Rockford, IL
Fascinated by the Enchanting Beauty of Peridot? August 29, 2023
Learn More About This August's Birthstone!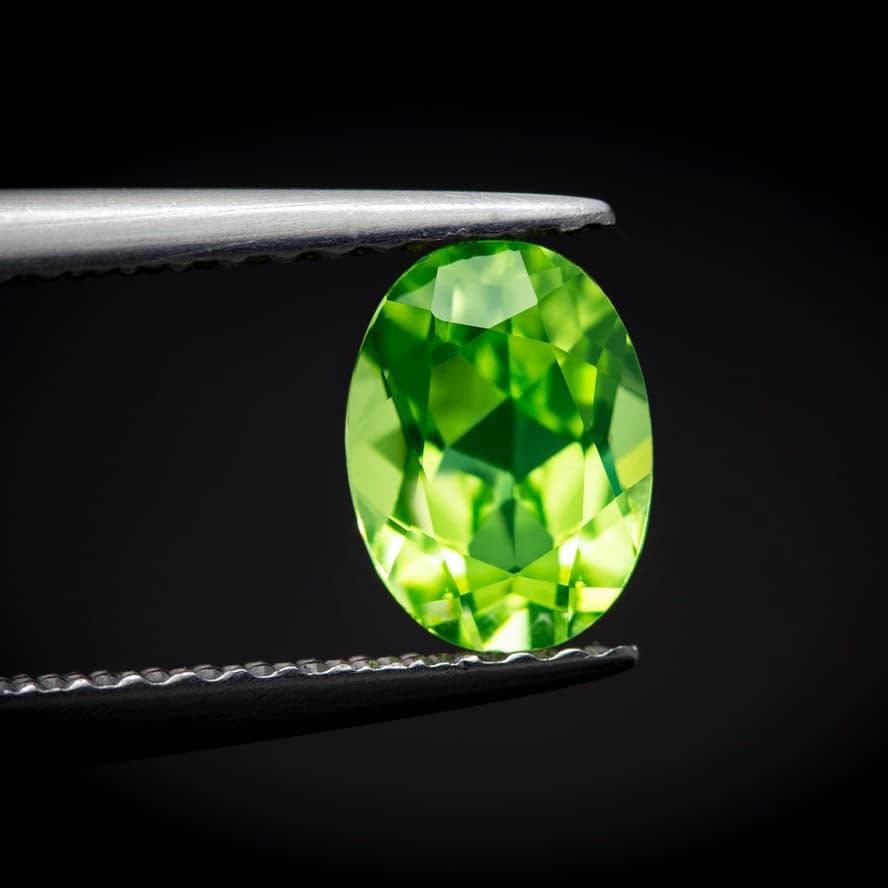 History and mythology behind peridot:
This August gemstone carries a rich history and mythology behind it. Peridot has been around for centuries and has been found in ancient Egyptian and Roman artifacts. It's no wonder this stunning gemstone is associated with the sun and its energy, as it's been shown to ward off evil and bring peace to its wearers. Long believed to have magical powers, peridot has even been used for healing purposes. One way to fully appreciate the allure of peridot is to incorporate it into your jewelry collection. If you're looking for gemstone rings, wedding rings, or custom rings in Rockford, IL, consider Peridot as your next addition. Its green, yellow-green, or olive-green hues make it a stunning and unique choice.
Where is Peridot found?
Peridot is usually found in volcanic rocks and is mostly mined in the USA, China, and Pakistan. It is also found in parts of Africa, Australia, and Brazil. The biggest peridot ever found weighed 319 carats and was found in Egypt. Peridot's availability is somewhat limited, which makes it a prized possession among those who own it.
How to take care of peridot jewelry?
To ensure your Peridot wedding ring stays sparkling for years to come, avoid exposing it to excessive heat, chemicals, and sunlight. When it comes to cleaning, use a gentle detergent solution and a soft brush, then rinse and dry thoroughly with a soft cloth. For stunning Peridot wedding rings in Rockford, IL, be sure to visit our showroom for the perfect ring to symbolize your love and commitment.
Why is Peridot a popular engagement ring choice?
For couples in the market for a unique and striking engagement ring, peridot might just be the gemstone for you. With its gorgeous green coloring and natural elegance, peridot engagement rings are an increasingly popular choice among those seeking an alternative to traditional diamond rings. Not only is Peridot affordable compared to other gemstones, but it also has a rich history and symbolism that speaks to many couples - representing love, peace, and happiness. If you're in Rockford, IL, and searching for the perfect ring, be sure to check out gemstone rings and custom wedding rings in Rockford, IL - you may just find the perfect peridot piece.
How to incorporate peridot into your everyday style?
If you're looking to elevate your everyday style, incorporating peridot jewelry is a great way to add a touch of luxury to your look. Whether it's a pair of peridot earrings or a statement necklace, peridot is a versatile gemstone that can be paired with a variety of outfits and other gemstones. If you're looking for inspiration, be sure to check out the latest styles of luxury engagement rings in Rockford, IL. Whether you're looking to make a bold statement or something more subtle, peridot is the perfect gemstone to add some sparkle to your daily routine.
Are you in the market for a unique engagement ring or perhaps looking to add some color to your jewelry collection? Look no further than peridot, a stunning gemstone with a rich history and a captivating green hue. Not only is Peridot a more affordable option than diamond wedding bands in Rockford, IL, but it also boasts a unique composition that sets it apart from other gemstones. Whether you're drawn to its symbolism or its enchanting beauty, peridot is a gemstone that is sure to please.
So why not explore the many facets of this stunning gemstone and add a touch of elegance to your jewelry collection today?