Jewelry Blog Rockford, IL
Valentine's Day 2021 Promises to Be a Romantic Sunday of Marriage Proposals January 27, 2021
Great news! Valentine's Day comes out on a Sunday this year, which makes it the perfect time to pop the question with the perfect ring.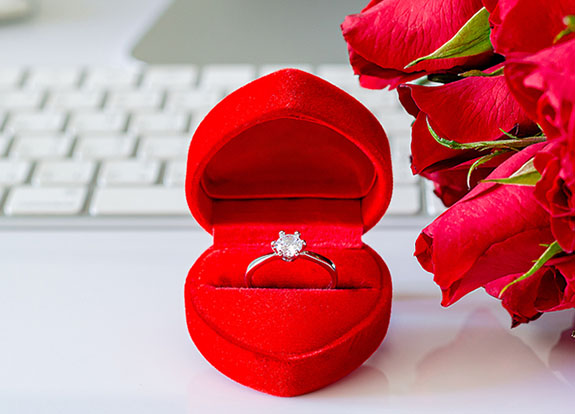 Millions of suitors will take advantage of their day off to execute the perfect surprise proposal. It may start off with a romantic outing — a return to the scene of a first date, perhaps — and then getting down on bended knee, professing their love and pulling out a ring box that's been cleverly hidden in their jacket pocket. And after all the happy tears have dried away, the couple will have plenty of time — because it's Sunday — to share the excitement with family and friends.
Valentine's Day marks the end of "engagement season," that romantic time of the year — from late November to mid-February — when nearly 40% of all marriage proposals take place.
How many suitors will find themselves on bended knee this February 14th? Current stats are unavailable, but back in early 2013 (when Valentine's Day came out on a Thursday), an American Express spending survey estimated that 6 million American couples would be either receiving or delivering a marriage proposal on Valentine's Day.
Over the past few years, Valentine's Day has maintained its position as one of the calendar's Top 5 days to get engaged. According to WeddingWire's most recent "Newlywed Report," Valentine's Day rated as the fifth-most-popular day to pop the question, with Christmas Day taking the #1 spot. In WeddingWire's 2018 report, Valentine's Day rolled in at #2, just behind Christmas Day.
Wedding website The Knot also placed Christmas Day in the #1 spot, followed by Christmas Eve, New Year's Day, the Sunday before Christmas and Valentine's Day.
As you can see, all of the most popular days to pop the question fit neatly into "engagement season."
If proposals were distributed equally throughout the year, each month would claim about 8%. But, WeddingWire's 2020 Newlywed Report revealed a significant spike in the portion of proposals taking place during December. A surprising 19% of all engagements happen during that festive month, and the number represents a rise of three percentage points since 2017. December proposals outnumber any other month by a margin of better than 2 to 1.
In 2020, the National Retail Federation reported that 55% of the U.S. population would exchange gifts on Valentine's Day, with jewelry purchases expected to reach $5.8 billion. A special subset of that number reflected the purchasing power of millions of romantic suitors who proposed with a diamond ring.
According to WeddingWire's 2020 Newlywed Report, 89% of suitors proposed with a ring in hand and 84% popped the question on bended knee.
Credit: Image by Bigstockphoto.com.