Jewelry Blog Rockford, IL
Swiss Researchers Invent Lightweight 18-Karat Gold That's Mixed With Plastic January 14, 2020
Swiss researchers just unveiled a new type of 18-karat gold that's made from 75% gold and 25% plastic, yielding super-lightweight, malleable material that weighs just 1/10th to 1/5th as much as the traditional alloy.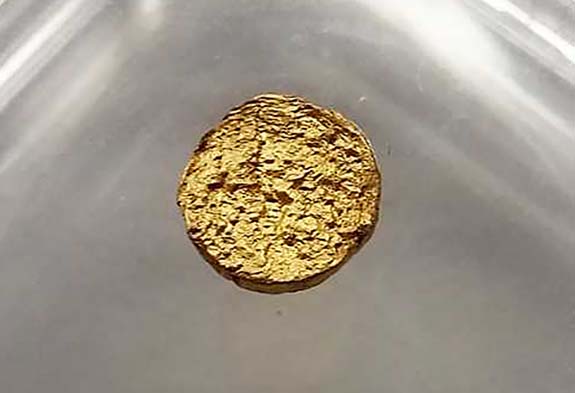 The team at ETH Zurich claims that the new lightweight alloy has the exact same lustrous qualities of traditional 18-karat gold, making it an attractive alternative for jewelry manufacturers and designers.
"Lovers of gold watches and heavy jewelry will be thrilled," wrote Peter Rüegg on ETH Zurich's official website. "The objects of their desire may someday become much lighter, but without losing any of their glitter. Especially with watches, a small amount of weight can make all the difference."
The researchers believe that the new material will also be attractive to manufacturers because it is easier to work than traditional precious metals. The melting point of the new material is just 105° C (221° F), versus 1,064° C (1,943° F) for traditional 18-karat gold.
Gold purity is measured by its karatage, with 24-karat gold being 100% pure. Conventional 18-karat yellow gold is made from 75% gold and 25% other materials, such as copper and silver. Popular 14-karat gold is 14/24ths (58.3%) pure gold, and 10-karat gold is 10/24ths (41.6%) gold. Both 14-karat and 10-karat gold are commonly mixed with silver and copper.
With the new material, ETH Zurich scientists used a matrix of plastic in place of metallic alloy elements. Instead of weighing 15 grams per cubic centimeter, the new 18-karat material weighs 1.7 grams per cubic centimeter.
Raffaele Mezzenga, Professor of Food and Soft Materials at ETH Zurich, explained how she and her colleagues used protein fibers and a polymer latex to form a matrix in which they embedded thin discs of gold nanocrystals. In addition, the lightweight gold contains countless tiny air pockets invisible to the eye.
Highlights of the process were recently published in the journal
Advanced Functional Materials
.
"This gold has the material properties of a plastic," Mezzenga said. "If a piece of it falls onto a hard surface, it sounds like plastic. But it glimmers like metallic gold, and can be polished and worked into the desired form."
The researchers also claimed that the hardness of the material may be adjusted by slightly altering the composition. The latex, for example, could be replaced by other plastics, such as polypropylene. Also, altering the shape of the gold nanoparticles will change the color from gold to violet.
While Mezzenga and her team see obvious applications for jewelry and watch manufacturers, the material also may be suitable for chemical catalysis, electronics applications or radiation shielding.
Credit: Image by ETH Zurich / Peter Rüegg.