Jewelry Blog Rockford, IL
Fairytale Proposal: Animated Couple Star as the Prince and Princess in 'Sleeping Beauty' January 13, 2020
A romantic Massachusetts man worked with an illustrator for six months to pull off an epic, fairytale marriage proposal that has gone viral on social media.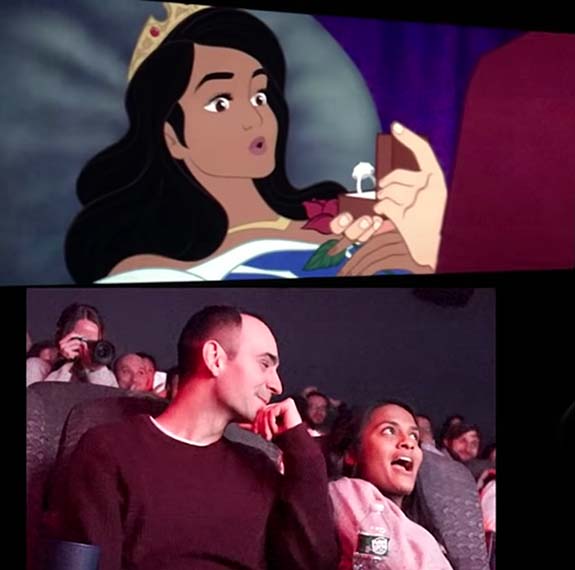 In filmmaker Lee Loechler's ambitious plan, animated versions of he and his girlfriend, Sthuthi David, would take starring roles in her favorite movie,
Sleeping Beauty
. During the pivotal scene, when Prince Phillip wakes Princess Aurora with a kiss, the characters on the screen would transform into cartoon lookalikes of Loechler and David and set the stage for the real-life proposal. Loechler contracted Australian illustrator Kayla Coombs to make it happen.
On December 30, Loechler and David attended what she thought was a special private screening of
Sleeping Beauty
at the Coolidge Corner Theatre in the couple's hometown of Brookline. Since all this was a surprise for David, hidden in the back of the screening room were the couple's friends and family. Surrounding the couple were Reddit volunteers, who were incentivized to attend the free screening with a pizza-and-beer afterparty.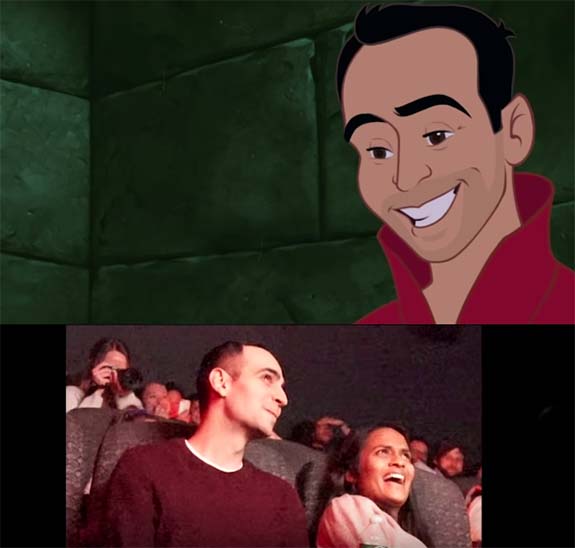 A YouTube.com video that has been viewed more than six million times shows David's reaction as the hair and skin colors of the iconic Disney characters start to change and there's the realization that she and her boyfriend are now in the movie.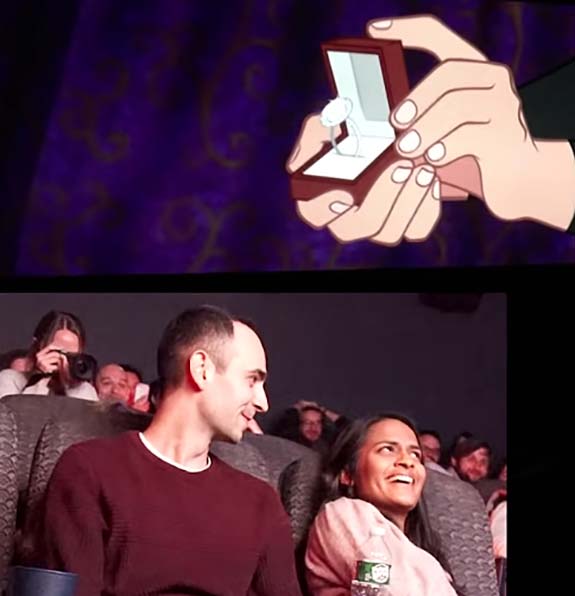 After the prince awakens the princess, he pulls out an open ring box revealing a glistening diamond engagement ring. The animated Loechler flips the box into the air, and the in-the-flesh version pretends to make the catch.
Standing in front of the screen, with the ring in hand, the real Loechler went down on one knee and proposed to his girlfriend.
"I love you with my whole heart, including all of its ventricles, atriums, valves," Loechler joked, before clarifying for the audience that David is a cardiologist.
"Oh my God, these poor people!" David responded, not knowing that the audience was made up of her friends, relatives and Reddit volunteers.
"Will you live happily ever after with me?" Loechler asked. David answered, "Yes."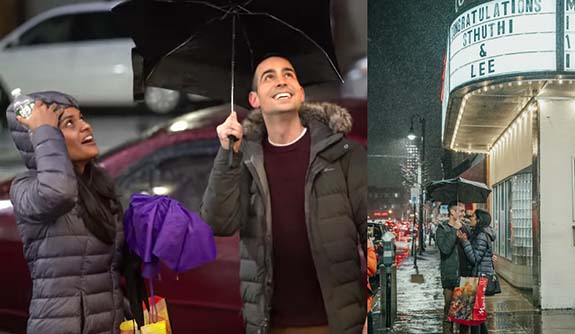 "It's not every day you get to propose to your high school sweetheart," Loechler wrote on his Instagram page. "The only thing better than seeing the smartest person I know completely dumbfounded was knowing we'd get to live happily ever after together."
As the movie came to a close, the title "The End" changed to "The Beginning."
Then, in a cute touch, the screen transitioned to a bold-color test pattern, and then a title appeared that said, "Alt 2 'Sthuthi Says No.'" In this version of the ending, there is a scene of crying dwarfs.
"Hey Riley," Loechler yelled to the film operator. "Can you kill it? She said, 'Yes.'"
Please check out the Loechler's video here...
Credits: Screen captures via YouTube.com.