Jewelry Blog Rockford, IL
Role Reversal: Will Single Ladies Propose to Their Guys on Leap Day, Feb. 29? January 15, 2020
For more than 1,500 years, February 29 has been reserved for single ladies who have waited far too long for their guys to pop the question. Leap Day, which hits the calendar every four years, is a time when traditional roles are reversed and women are encouraged to pop the question.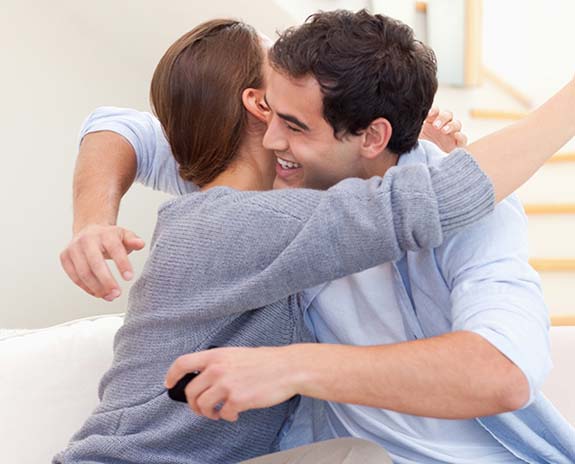 Leap Day marriage proposals have their roots in 5th century Ireland, where St. Brigid of Kildare forged a deal with St. Patrick to permit women to propose to men every four years. In Ireland, Leap Day is also called Bachelor's Day.
This Irish tradition was then brought to Scotland by Irish monks. Legend states that in 1288, the Scotts passed a law that allowed women to propose on Leap Day. If the man refused the proposal, he would have to pay a fine, ranging from a kiss to a silk dress or a pair of gloves. In upper-class circles, the fine would be 12 pairs of gloves. Presumably, the gloves would hide the shame of not wearing an engagement ring.
In English law, the day February 29 had no legal status, so some Brits believed that traditional customs held no status on that day either. Hence, women were free to reverse the unfair custom that permitted only men to propose marriage.
This theme was celebrated in the 2010 romance/comedy
Leap Year
. Amy Adams plays the part of Anna, who is frustrated when another anniversary passes without a marriage proposal from her boyfriend. When she learns about the Irish tradition that allows women to pop the question on Leap Day, she rushes to Dublin to track down the boyfriend at a convention just in time to deliver a marriage proposal on February 29.
There is some evidence that more women are considering the idea of popping the question — any day of the year. Pinterest reported in December 2018 that searches on its site for the phrase "women proposing to men" had skyrocketed 336% compared to 2017.
On Christmas Day, Olympic skier Lindsey Vonn shook up the Internet when she proposed to her NHL pro boyfriend P.K. Subban, stating, "Men deserve engagement rings, too." Vonn's proposal needs an asterisk, however. You see, Subban had already proposed to her in August with an emerald ring (because green is her favorite color).
In the fall of 2018, The Knot's sister site — which covers unique proposals — changed its name from "How He Asked" to "How They Asked."
"We are strong believers that inclusivity is not optional," noted Meghan Brown, site director of How They Asked, "and it was about time our name reflected that. How They Asked is a site for everyone."
A recent survey of 500 men by
Glamour
found that 70% of men would be "psyched" if their female partner popped the question.
Will Leap Day 2020 mark a turning point for traditional gender roles? Only time will tell.
Credit: Image by BigStockPhoto.com