Jewelry Blog Rockford, IL
Music Friday: Paul McCartney Looks to Spring for Diamond Ring in 'Can't Buy Me Love' August 2, 2019
Welcome to Music Friday when we bring you sensational songs with jewelry, gemstones or precious metals in the lyrics or title. Today, we hop in our time machine to join up with a 22-year-old Paul McCartney, who is looking to spring for a diamond ring in The Beatles' 1964 smash hit, "Can't Buy Me Love."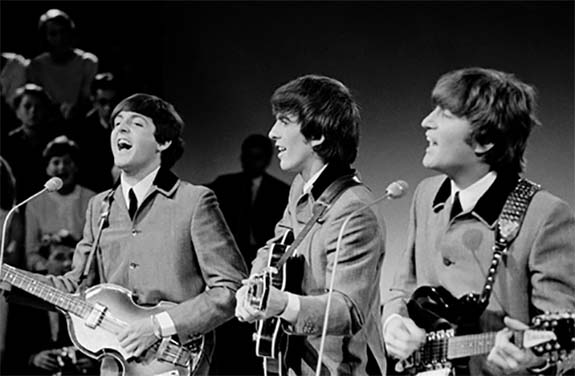 The fresh-faced frontman sings, "I'll buy you a diamond ring, my friend / If it makes you feel all right / I'll get you anything, my friend / If it makes you feel all right / 'Cause I don't care too much for money / Money can't buy me love."
In a 1994 interview, McCartney revealed the "true" meaning of the song he penned with John Lennon.
"The idea behind the song," he said, "was that all these material possessions are all very well, but they won't buy me what I really want." And, clearly, what he really wanted was love.
Years later, when reflecting on his stellar career and all the perks that wealth had brought him, McCartney admitted that the song might have been called "Can Buy Me Love." Today, McCartney and fellow Brit Andrew Lloyd Webber vie for title of "The Richest Musician in the World." Both are estimated to be worth about $1.2 billion.
Interestingly, "Can't Buy Me Love" is one of the few songs that actually begins with the chorus. The idea is credited to producer George Martin, who felt the song needed a stronger intro.
"Can't Buy Me Love" appeared as the 11th track from The Beatles' third studio album,
A Hard Day's Night
, and immediately started its climb up the U.S.
Billboard
Top 100 chart. When the song hit #1 on April 4, 1964, the entire Top 5 that day was filled with Beatles' songs, which included "Twist and Shout," "She Loves You," "I Want to Hold Your Hand" and "Please Please Me." This amazing accomplishment has never been repeated.
Rolling Stone
editors rated "Can't Buy Me Love" at #295 on its list of the "500 Greatest Songs of All Time."
Despite their humble beginnings — "I may not have a lot to give / But what I've got I'll give to you" — The Beatles went on to become the best-selling band in history, with more than 800 million albums sold worldwide.
We invite you to watch McCartney and The Beatles performing "Can't Buy Me Love." The lyrics are below if you'd like to sing along...
"Can't Buy Me Love"
Written by John Lennon and Paul McCartney. Performed by The Beatles.
Can't buy me love, oh
Love, oh
Can't buy me love, oh
I'll buy you a diamond ring, my friend
If it makes you feel all right
I'll get you anything, my friend
If it makes you feel all right
'Cause I don't care too much for money
Money can't buy me love
I'll give you all I've got to give
If you say you love me too
I may not have a lot to give
But what I've got I'll give to you
I don't care too much for money
For money can't buy me love
Can't buy me love, oh
Everybody tells me so
Can't buy me love, oh
No, no, no, no
Say you don't need no diamond rings
And I'll be satisfied
Tell me that you want the kind of things
That money just can't buy
I don't care too much for money
Money can't buy me love
Buy me love
Everybody tells me so
Can't buy me love, oh
No, no, no, no
Say you don't need no diamond rings
And I'll be satisfied
Tell me that you want the kind of things
That money just can't buy
I don't care too much for money
Money can't buy me love
Can't buy me love, oh
Love, oh
Buy me love, oh
Credit: Image by Omroepvereniging VARA [CC BY-SA 3.0 nl], via Wikimedia Commons