Jewelry Blog Rockford, IL
Music Friday: 'Diamonds Ate the Radio' in Coldplay's 'Aliens' — a Song to Support Refugees July 21, 2017
Welcome to Music Friday when we bring you exciting new songs with jewelry, gemstones or precious metals in the title or lyrics. Today, Coldplay introduces us to the curious phrase "diamonds ate the radio" with the July 14 release of "Aliens."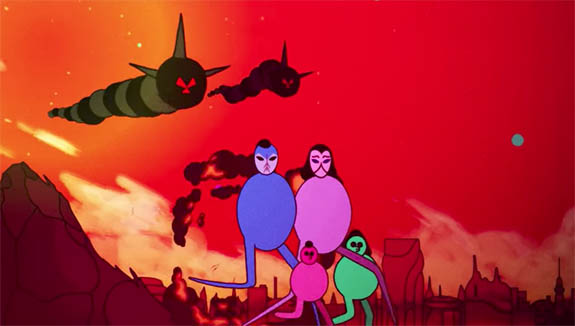 In the song's animated video, we see a family of aliens — rendered as armless orb-like beings — fleeing their war-torn planet. They dodge artillery fire while being pursued by giant spike-headed worms. The family ascends skyward to meet up with their spacecraft — and enter a secured portal just in the nick of time. The family travels to a new planet, but yearn to return home again.
The saga of the orb people is a metaphor for the dire circumstances currently faced by millions of migrants who have been forced to flee their homeland. Proceeds from "Aliens" will benefit the Migrant Offshore Aid Station (MOAS), an international non-governmental organization that rescues migrants at sea.
Now, let's get back to the phrase that qualifies "Aliens" as a Music Friday tune. In the first two lines of the song, frontman Chris Martin sings, "We were just about to lose our home / Diamonds ate the radio."
At first blush, the diamond lyrics had us truly stumped. What could they possibly mean?
But, then we found a Reddit thread that focused on that exact question.
One Reddit contributor believes that "diamonds ate the radio" is a reference to artists being pressured to churn out overproduced music that conforms to a certain proven standard. A second Reddit user is confident the diamond reference is a nod to the ultimate RIAA sales threshold, where artists earn a diamond certification for an album that's shipped more than 10 million units.
Perhaps the writers of "Aliens" had both explanations in mind when they introduced a doomed future society that's not only under fire, but where only diamond-certified songs will get any airplay.
"Aliens" was released as the third track from Coldplay's new EP
Kaleidoscope
. Coldplay's pledge to donate proceeds from the song to MOAS received warm coverage from both RollingStone.com and Billboard.com. The Youtube video has been viewed more than 4.7 million times.
With more than 80 million records sold worldwide, Coldplay ranks as one of the world's best-selling music groups. In December 2009,
Rolling Stone
readers ranked Coldplay as the fourth-best band of the 2000s. The group has earned five MTV Video Music Awards, seven Grammy Awards and 31 Grammy nominations.
Please check out the "Aliens" animated video. The lyrics are below if you'd like to sing along...
"Aliens"
Written by Brian Eno, Rik Simpson and Markus Dravs. Performed by Coldplay.
We were just about to lose our home
Diamonds ate the radio
Moving in the dead of night
We took photographs just some just so
History has some to know
We were moving at the speed of flight
Kids cry
If you want to
That's alright
If you want to
Hold me
Hold me tight
Just an alien
We were hovering without a home
Millions are UFO
Hovering in hope some scope tonight
Sees the light and says
Fly if you want to
That's alright
But if you want to
Call me
Call this line
Just an alien
Just an alien
Oh, we just want to get home again
Tell your leader
Sir or ma'am
We come in peace
We mean no harm
Somewhere out there
In the unknown
All the E.T.'s are phoning home
Watching my life
On the skyline
Crossing your eyes
For a lifetime
Just an alien
Moving target
Target movement
A patch, a corner
Of the spacetime
Just an alien
Turning toward it
Turning pages
Over Asia
Crossing ages
Just an alien
Oh, we just want to get home again
Credit: Screen captures via YouTube.com.