Jewelry Blog Rockford, IL
Family's Legacy Lives On as Grandma's Diamond Ring Survives Apartment Blaze July 24, 2017
Last month, Wisconsin resident Destinee Fitzgerald woke up a bit earlier than usual to check the time on her cell phone. She became terrified when she smelled smoke in her apartment and heard the the faint sound of a neighbor's smoke alarm. She looked out the window and saw flames leaping from her landlord's air conditioner.
In an instant, she scooped up her four-year-old daughter, Deana Marie, and dashed to safety. Left behind in her bedroom, on top of a framed photo of her unborn son's ultrasound, was a cherished family heirloom — her grandma's diamond ring.
Mauston firefighters arrived on the scene but couldn't keep the blaze from completely gutting her apartment.
It took several weeks before the local authorities deemed the conditions safe enough to allow residents back into the building to salvage their property. Destinee was sure her grandmother's ring had perished in the fire.
"Yeah, I just felt terrible about it," Destinee told the
Juneau County Star-Times
. "It was so bad because the ring was something that stood out to me and something I wanted to pass on to my own daughter."
Destiny's mom, Dana Fitzgerald, had other ideas. She bravely navigated up the badly damaged steps and into the blackened rooms.
"She kept saying, 'Mom, don't go up there, it's not safe,'" Dana told the
Juneau County Star-Times
. "But I was determined to find this ring. I made it all the way to the back bedroom. I lifted up some soaking wet papers and there was this shiny, beautiful ring sitting on top of the frame of my grandson's ultrasound. I put it right on my finger so I wouldn't lose it."
Dana had received the ring from her mother, Donna "Hookie" Chamberlain, who passed away in 1998 when Destinee was just two years old. Dana was determined to give Deana Marie an opportunity to be the fourth generation to wear the ring.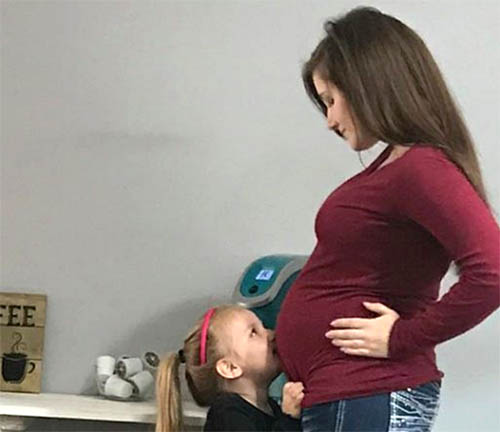 On Facebook, Destinee summarized her ordeal: "What a crazy couple days it has been. I can't stop thanking God that I happened to wake up to check my phone that night... It's the most terrifying thing waking up to smoke in your home and not knowing what's going on. My first thought was, 'Oh my gosh. Get my baby girl out of this!'"
Destinee told the
Juneau County Star-Times
that the only reason she had taken off the ring was because her fingers had become swollen during her pregnancy. She reported that the ring is back on her finger.
"Even though it is a material thing, it is more than just a ring," Destinee said. "There is a lot of meaning behind it because I don't have my grandma around anymore. I'm back to wearing it every day, unless my finger is swollen, of course."
Credit: Ring image by Dana Fitzgerald. Other images via Facebook/Destinee Fitzgerald.