Jewelry Blog Rockford, IL
Emirates Airline Sets Twittersphere Ablaze With Post of Diamond-Adorned Plane December 11, 2018
Emirates Airline, the Dubai-based carrier famous for its opulent in-flight amenities, such as Bulgari skincare and Bowers & Wilkins headphones, set the Twittersphere ablaze last week when it posted a photo of a Boeing 777 spectacularly embellished with diamonds.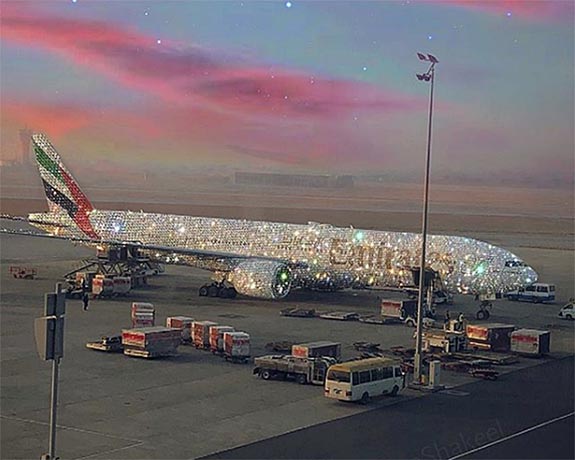 On its official Twitter account, the airline wrote, "Presenting the Emirates 'Bling' 777. Image created by Sara Shakeel." The comment was punctuated with three blue diamond emojis.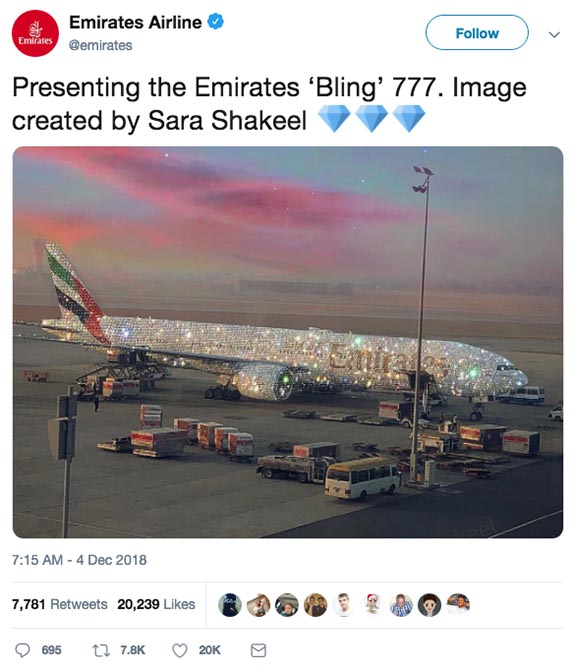 The image went viral instantly, as supporters and naysayers alike chimed in on what they believed to be the first-of-its-kind, gem-encrusted aircraft. The original post earned 20,000 likes and 7,700 retweets, with cross-over commentary appearing on Facebook, Instagram and many news outlets.
Among those impressed by the plane was Twitter user @spotjane78, who wrote, "Emirates, you truly represent Dubai in every perspective. Keep blinging."
Also on Twitter, @FredPompei added, "That's really cool. Would love to see what the inside's like."
Critics blistered the airline for what seemed to be a showy, misguided use of its funds.
"This is disgusting and a shame!! wrote Facebook user Khoder Osman. "Children do not have food to eat and this happens."
Twitter user Abogago Bravado wrote, "Pointless and gaudy. [The airline] should focus on... providing comfortable seats."
These and many other social commentators failed to realize that the blinged-out 777 didn't exist in real life. If was born from the imagination of award-winning Pakistani artist Sara Shakeel, who specializes in adding "bling" to otherwise-ordinary objects.
Obviously pleased with the viral nature of Shakeel's artwork, but concerned about getting the backstory straight, an airline spokesperson told
Gulf News
, "We just posted an art piece made by crystal artist Sara Shakeel. I can confirm it's not real."
The original post of Shakeel's bejeweled plane appeared on the artist's Instagram page, accompanied by the caption, "Waiting for my ride."
The artist was about to embark on a trip to Milan to take in the culture and art of the beautiful Italian city.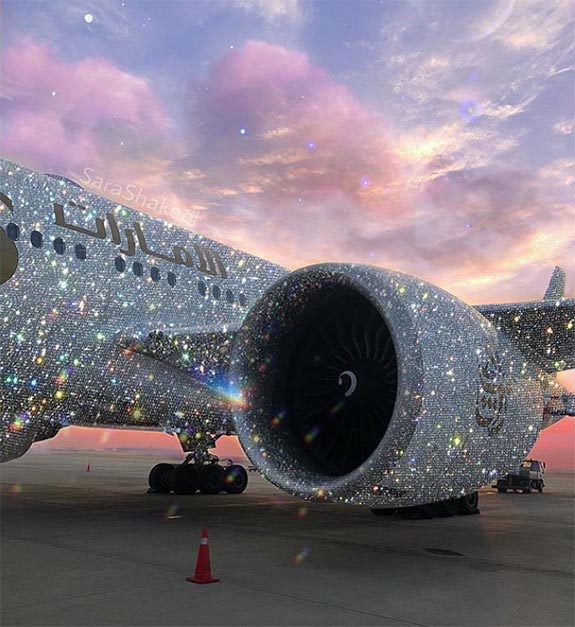 After the original post went viral, Shakeel added a second plane photo to Instagram, writing, "P.S. Thank you guys! I truly and honestly made the diamond plane for the love of the trip and the excitement! Never in a million years did I know it [would] end up on the news / tv / trending on #twitter all over the place! So thank you a million times!"
Besides the publicity, the artist earned an upgrade on her flight to Milan.
A Boeing 777 is 242 feet long, so we did the math to determine the number of 1-carat diamonds it would take to span the aircraft end to end. A 1-carat diamond is approximately 6.5 mm wide (about .26 inches), so about 48 diamonds placed side by side would measure 1 foot. It would, therefore, take 11,616 diamonds to adorn one side of the plane with just a single row of 1-carat diamonds.
Credits: Images via Twitter/Emirates; Instagram/sarashakeel.