Jewelry Blog Rockford, IL
Disneyland Paris Named the World's Most Popular Place to Pop the Question March 27, 2018
Located just a short skip from The City of Love, Disneyland Paris has been named the world's most popular place to pop the question.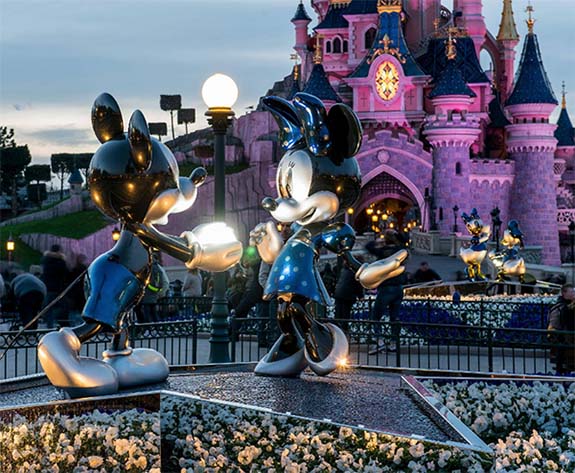 Wedding-planning website
Hitched.co.uk
reports that one in 500 proposals worldwide takes place at the Paris venue — and we're certain that many suitors staged their bended-knee photo op squarely in front of the picturesque Sleeping Beauty Castle.
Hitched based its findings on the analysis of hashtags used on Instagram. For many couples, the first thing they do after celebrating their engagement is announce the big news on social media. The researchers at the wedding website analyzed the data from hashtags, such as #bridetobe and #engaged. They also used geotagging to define the most popular landmarks associated with engagement messaging.
The results seem to confirm that a Disney Park is not only "the happiest place on Earth," but also the most romantic. Disney dominates the "Most Popular Places to Propose" list, placing three properties in the Top 10.
Ranking #2 on the list is Walt Disney's Magic Kingdom in Orlando, Florida (one in 555 proposals), and placing #8 is Walt Disney's Epcot, also in Orlando (one in 1,428 proposals).
Disneyland Paris offers a six-page brochure that promotes a "wedding proposal service" that promises to make your special moment "a magical affair" in the most fabulous of settings. The park can provide a dedicated representative to manage all the details of the proposal, including the perfect location, photographer and flowers. The representative also can schedule a romantic dinner with personalized table decorations, and reserve an enchanting room sprinkled with rose petals.
Rounding out the Top 10 list of the Most Popular Places to Propose are #3 Centennial Lakes Park in Minneapolis, Minnesota (one in 625 proposals), #4 Eiffel Tower in Paris, France (one in 679), #5 The Hollywood Sign, Los Angeles, California (one in 1,000), #6 Central Park and Brooklyn Bridge, New York (one in 1,111), #7 Niagara Falls, Ontario, Canada (one in 1,250), #9 Big Bear Lake, California (one in 1,666) and #10 Bondi Beach, Sydney, Australia (one in 2,000).
Credit: Image via Facebook/Disneyland Paris.