Jewelry Blog Rockford, IL
20-Carat Diamond Ring Flies Off Paris Hilton's Finger at Dance Club; Fiancé Finds It in Ice Bucket March 28, 2018
Socialite Paris Hilton lost her 20-carat diamond engagement ring while dancing at a trendy Miami club Friday night. Hilton had been seen reveling with her hands in the air when the $2 million ring "flew off" her finger.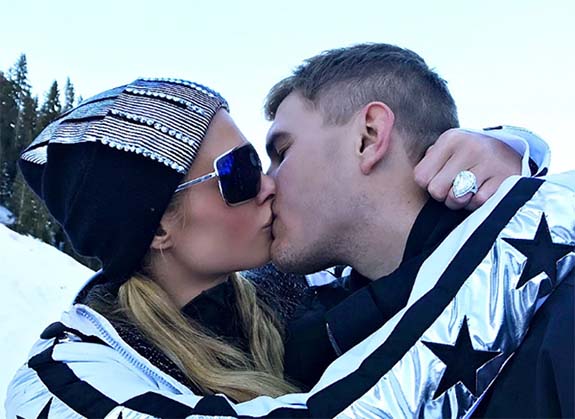 A mad scramble ensued, with security guards and patrons crawling under VIP tables in search of the sparkler Hilton had received from fiancé Chris Zylka in early January. At the time, she called it her "dream ring" and the "most beautiful thing I have ever seen."
Finding Hilton's one-of-a-kind sparkler — a pear-shaped center stone surrounded by a halo of smaller round diamonds — was particularly challenging because the venue was crowded and dark. The former RC Cola Plant in the Wynwood Arts District has been transformed into a 50,000-square-foot club that can accommodate 7,000 guests.
Zylka miraculously spotted the ring inside an ice bucket two tables away from where Hilton was dancing.
Clubgoers told
Page Six
that Hilton was completely "panicked" during the search and "cried with relief" when the ring was recovered.
Hilton's 18 million Twitter followers got a first-hand account of the drama in a Monday tweet: "The ring was just so heavy and big that while I was dancing it literally flew off my finger into an ice bucket a couple of tables over. Thank God by some miracle my fiancé found it before someone else did and most likely would not have returned it. I am so lucky!"
Zylka had proposed to Hilton in scenic Aspen, Colo., during the New Year's holiday weekend. Celebrity jeweler Michael Greene told
People
magazine that the actor had remembered that Hilton mentioned on a number of occasions how much she loved her mother's pear-shaped diamond.
"And when Chris came to me that was his request," Greene noted. "The pear shape really jumped out for him and ultimately for her."
Just after the proposal, Hilton posted to Twitter a series of romantic shots, along with this caption: "I said Yas! So happy & excited to be engaged to the love of my life. My best friend & soulmate. Perfect for me in every way. So dedicated, loyal, loving & kindhearted. I feel like the luckiest girl in the world! You are my dream come true! Thank you for showing me that fairytales do exist."
In addition to possessing all those attributes, Zylka apparently has excellent eyesight and is very talented when it comes to figuring out the trajectory of an airborne diamond engagement ring. How many people would have thought to look in an ice bucket "a couple of tables over" or even be able to discern a diamond-and-platinum ring among the ice cubes in a dark club?
And here's a quick tip for Ms. Hilton: It's time to get your ring resized.
Credit: Image via Instagram/ParisHilton.