Jewelry Blog Rockford, IL
Birthstone Feature: Historic 'Pearl of Asia' Is the World's Largest Natural Pearl June 2, 2020
Today we celebrate June's official birthstone by shining our spotlight on the world's largest natural pearl. Tipping the scales at 600 carats (about a quarter pound) and standing 3 inches tall, the "Pearl of Asia" boasts a storied history that dates back more than 400 years.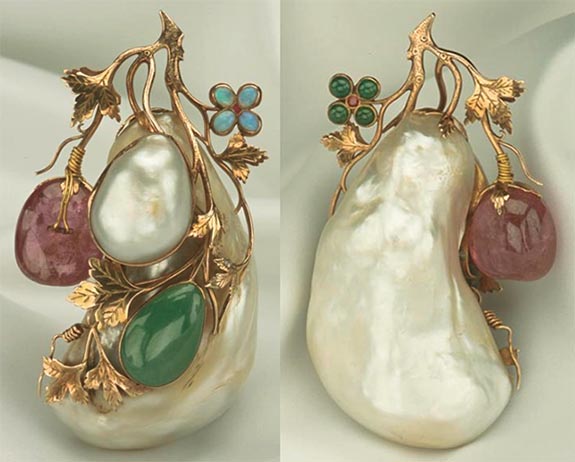 Jewelry experts believe the baroque-shaped pearl was discovered in the pearl fishing grounds of the Persian Gulf sometime between the late 16th and early 17th centuries.
The natural pearl first surfaced in India, but became the property of the King of Persia (present-day Iran) after the siege of Delhi. The King then gifted the gem to Chinese Emperor Qianlong, who believed the giant pearl would bring happiness and good fortune.
The Pearl of Asia migrated to the west in the early 20th century when it was placed into its current setting — an organic motif that resembles a bunch of fruits dangling from a vine. The smaller fruits are represented by an oval-shaped white pearl as well as a cabochon-cut jade and pink quartz.
Natural pearls, such as the Pearl of Asia, are exceedingly rare because they are created by mollusks randomly, without human intervention. When a grain of sand or similar irritant finds its way between the mollusk's shell and its mantle tissue, the process begins. To protect itself, the mollusk instinctually secretes multiple layers of nacre, an iridescent material that eventually becomes a pearl. Cultured pearls, by contrast, are created when a shell bead is surgically embedded inside the body of the mollusk to stimulate nacre secretion.
The Pearl of Asia is said to be the largest known natural "nacreous" pearl, meaning that it is formed with layers of nacre. The largest non-nacreous pearl — the "Pearl of Allah" — weighs more than 14 pounds. That pearl was the result of stony growths called calcareous concretions.
In 2005, the Pearl of Asia was one of 12 rare pearls featured during a six-month exhibition at the Smithsonian National Museum of Natural History called "The Allure of Pearls." Other specimens included La Peregrina, the Hope Pearl, the Drexel Pearl, the Black Beauty, the Pearl of Kuwait, the Queen Mary Brooch with two large natural pink conch pearls, the South Sea Drops, the Survival Pearl and the Paspaley Pearl.
Pearl is one of the two official birthstones for June. The other is alexandrite.
Credits: Images courtesy of Smithsonian/NMNH Photo Services.