Jewelry Blog Rockford, IL
Beatles Legend Paul McCartney Invites Aussie Couple Onstage for a Very Special Marriage Proposal December 7, 2017
Beatles superfan Saya and boyfriend Martin saw their dreams come true Saturday night when music legend Paul McCartney invited them onstage in the Land Down Under for a very special marriage proposal.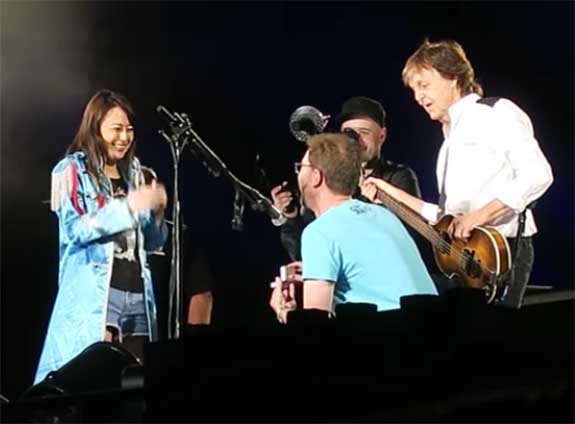 More than 24,000 fans at the sold-out "nib Stadium" in Perth, Australia, shared the love as McCartney interrupted his encore to focus on the young couple and the romantic task at hand.
McCartney had spotted the lovebirds in the crowd earlier in his performance. Martin had been holding up a large placard that read, "Can I Propose To My Love On Stage?" and Saya held a brightly colored sign that read, "I'll Give Him the Answer to Love Eternally If I Can Meet You, Paul."
McCartney was happy to oblige and invited the couple onstage. With all the action captured in realtime on the stadium's giant video screens, McCartney chatted briefly with Saya, learning that she was originally from Japan, but now living in Perth. She told McCartney that she liked the city because of the friendly people and the nice weather.
Then McCartney brought Martin into the spotlight, joking, "Are you going to do this thing? You got a ring?"
Once McCartney had confirmed that Martin had the ring box in hand, he instructed the young suitor to "tell her on your knee."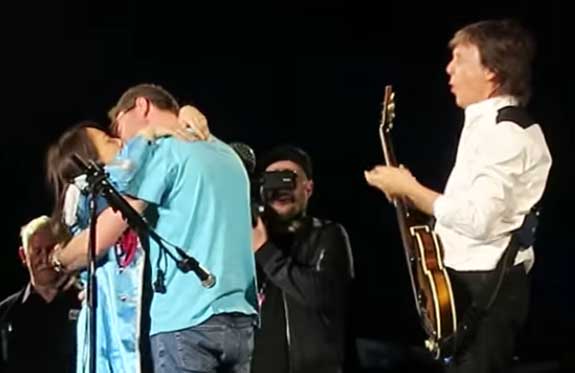 "I know now that I have the world's biggest Beatles fan and it would do me an honor, Saya, if you would take my hand in marriage. Will you marry me?" he said.
"Yes," Saya answered, and the crowd screamed their approval.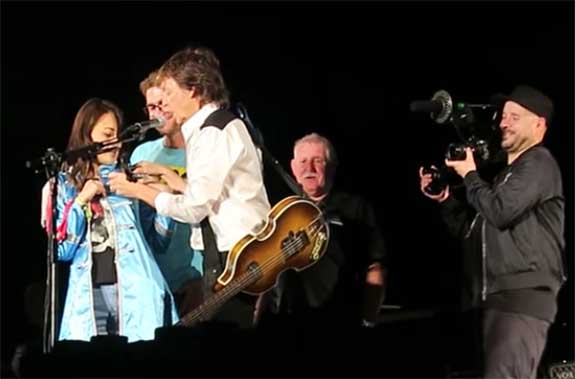 McCartney called the couple over for a three-way hug and then signed Saya's jacket.
At 75 years old and still going strong, McCartney proved once again that "all you need is love."
The complete scene was captured by a concertgoer and posted to YouTube. The proposal takes place during the first three minutes of the video.
Credits: Screen captures via YouTube.com.