Jewelry Blog Rockford, IL
World's Biggest, Heaviest and Most Valuable Coin to Make U.S. Debut Next Week July 9, 2019
The world's biggest, heaviest and most valuable coin will make its U.S. debut at the New York Stock Exchange (NYSE) next Tuesday, July 16.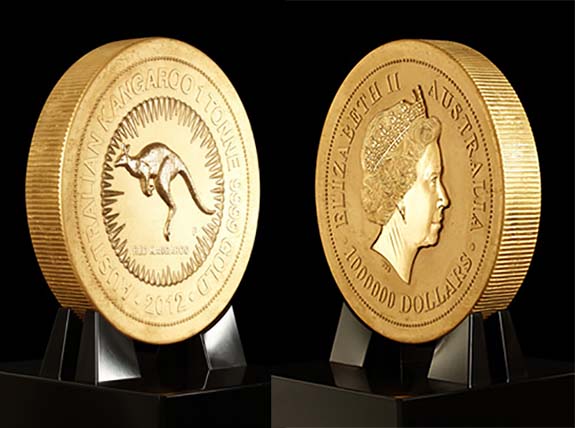 For only 12 hours — 7 a.m. to 7 p.m. — the "1 Tonne Australian Kangaroo" gold coin will be on public display in Experience Square, just outside the NYSE on Broad Street.
Made from 99.99% pure gold, the coin measures 80 cm (31.5 inches) wide and 12 cm (4.5 inches) thick. It weighs one metric ton, which is equivalent to 2,200 pounds or 35,274 ounces. The coin has a face value of $1 million, but at today's gold price, the precious metal alone is worth $49.3 million.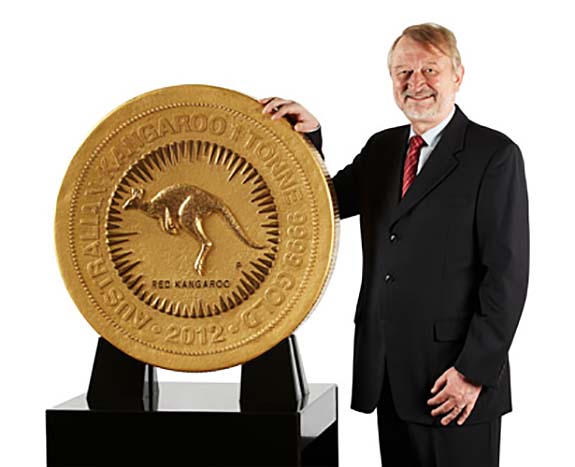 The Perth Mint created the "1 Tonne Australian Kangaroo" in 2011 to bring worldwide attention to its popular annual Australian Kangaroo Gold Bullion Coin Series. A year later, Guinness World Records affirmed its status as the world's largest coin.
The reverse design depicts a bounding red kangaroo surrounded by stylized rays of sunlight. The coin is bordered by the inscription AUSTRALIAN KANGAROO 1 TONNE 9999 GOLD and the year 2012.
The obverse of the coin portrays the Ian Rank-Broadley effigy of Her Majesty Queen Elizabeth II, accompanied by the inscriptions ELIZABETH II, AUSTRALIA and the monetary denomination of 1 MILLION DOLLARS.
The enormous gold coin has rarely left its permanent display at The Perth Mint's Gold Exhibition in the Land Down Under. It did embark on a promotional tour across Asia and Europe in 2014, and now it is traveling halfway around the world for the one-day New York exhibition.
The Australian coin is 10 times heavier than the previous record-holder, a 100 kg (220 pound) coin designed by the Royal Canadian Mint.
Credits: Images courtesy of The Perth Mint.