Jewelry Blog Rockford, IL
Julian Edelman and His Three Super Bowl Rings Appear on 'The Late Show' July 8, 2019
Super Bowl LIII MVP Julian Edelman gave the four million viewers of
The Late Show With Stephen Colbert
a close-up look at his three championship rings in a light-hearted segment that nearly resulted in the host keeping the one that got hung up on the knuckle of his left middle finger.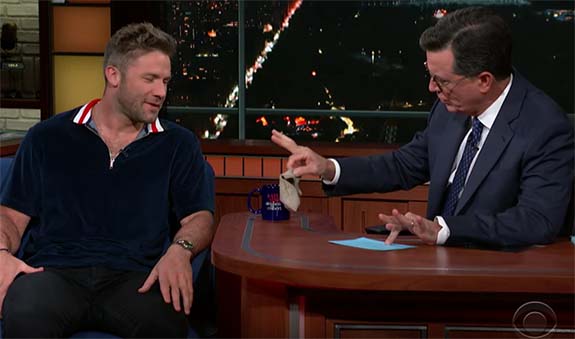 The New England Patriots' wide receiver — looking relaxed minus his signature caveman beard — was all set to talk about a brand new Showtime documentary about his life called
100%: Julian Edelman
, but of primary interest to Colbert was the bounty of Super Bowl jewelry Edelman had brought along.
"We have a heavy satchel," said Colbert as he revealed a leather bag that had been hidden behind his desk. He gingerly opened the bag, extracted three ginormous diamond-embellished rings and then stood them up vertically so the TV cameras could focus on them.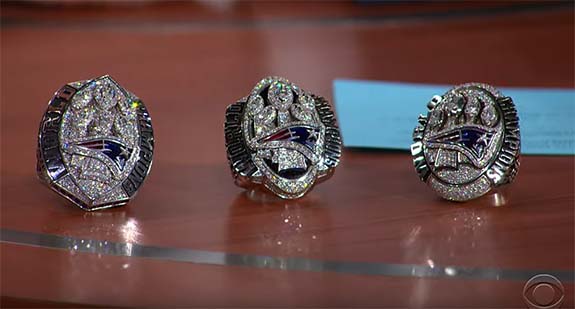 The largest of the three rings features 422 diamonds weighing 8.25 carats and 20 blue sapphires totaling 1.60 carats. Edelman and the rest of the New England Patriots were awarded their Super Bowl LIII rings last month during a private ceremony at the home of Patriots owner Robert Kraft. The newest rings have the distinction of being the biggest and blingiest ever created for any team of any sport.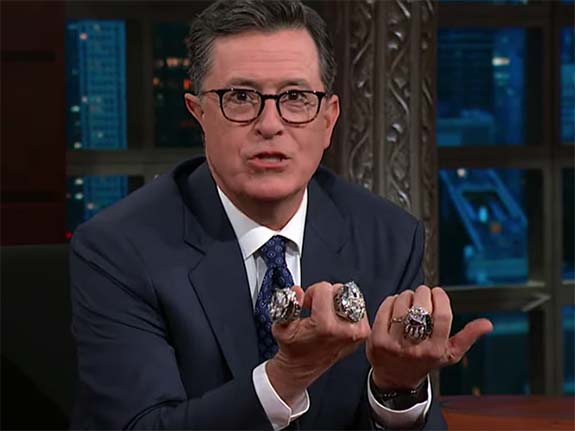 Colbert couldn't resist trying on the rings that represent Patriots' victories in Super Bowls XLIX, LI and LIII.
"I could wear these around my neck," the host joked, implying that they were the size of necklaces, not rings.
Running with the same theme, Colbert asked Edelman, "Do you need to go to the gym? Or do you just curl with these on?"
Then Colbert asked the fearless clutch receiver if he had a favorite of the three.
"Yeah, the next one," Edelman said half-jokingly. The Patriots have earned six Super Bowl titles, a record the team shares with the Pittsburgh Steelers.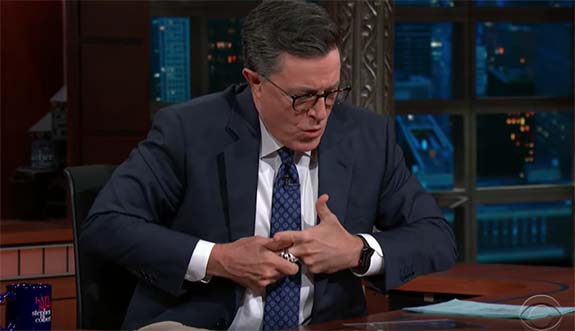 Colbert easily slipped the oversized rings off his right hand, but the one on the middle finger of his left hand wouldn't budge. Colbert pulled it and twisted it, but it wouldn't come off.
"Sorry, it's mine now," the host joked. Eventually, he managed to get it loose.
Colbert's final question about the rings was a simple one.
"Where do you keep them?" asked the host.
"I have a couple of secret stashes. Pretty much like Fort Knox," said Edelman, comparing the amount of security needed to keep his Super Bowl bounty safe to the depository in Kentucky where the bulk of the nation's gold bullion is kept.
The Showtime documentary
100%: Julian Edelman
explores how the undersized, underdog receiver overcame a major injury and other setbacks to become a Super Bowl MVP.
Check out the full segment by clicking the video below...
Credits: Screen captures via YouTube.com/The Late Show With Stephen Colbert.