Jewelry Blog Rockford, IL
Two of the Season's Most Popular Days for Popping the Question Are Still on the Board February 7, 2019
Even though the calendar shows we're just a week from the end of "engagement season" — the magical time of the year when nearly 40% of all marriage proposals take place — a pair of Top-10 pop-the-question days remains on the board.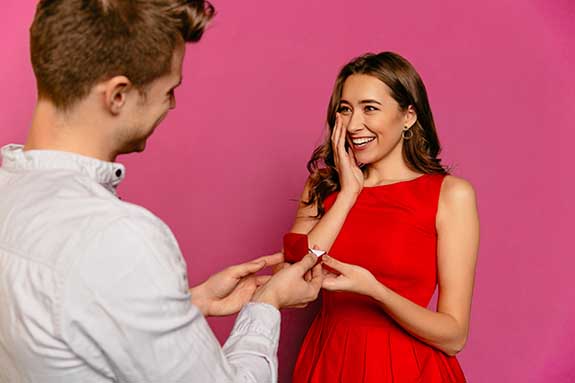 For those of you keeping score, the 10th-most-popular day to deliver a marriage proposal takes place this weekend, and the second-most-popular day hits next Thursday.
Believe it or not, the Saturday before Valentine's Day is rated #10 on WeddingWire's list of most popular days to pop the question. The editor's at WeddingWire believe that a Saturday proposal may reflect the couple's desire to celebrate their engagement over a weekend and not necessarily on Valentine's Day, which often comes up during the week (February 14 is on a Thursday) and is certainly not a day when most people have off. Popping the question on the weekend prior to Valentine's Day also preserves the element of surprise.
Rated #2 on WeddingWire's list is none other than Valentine's Day itself. Cupid's special day is all about love and expressing to that special someone just how much you care. We reported yesterday that more than half of the U.S. population will be exchanging gifts on Valentine's Day, with jewelry purchases expected to reach $3.9 billion, according to the National Retail Federation. A special subset of that number will reflect the purchases of millions of romantic suitors who are planning to propose with a diamond ring.
Back in 2014, American Express'
Spending & Saving Tracker
estimated that six million American couples expected to receive or deliver a marriage proposal on Valentine's Day.
Engagement season formally runs from Thanksgiving Day to Valentine's Day. The only day to beat out Valentine's Day in popularity is Christmas Day.
Here's the complete Top 10 list, as revealed in WeddingWire's 2018
Newlywed Report
...
#1. Christmas Day
#2. Valentine's Day
#3. Christmas Eve
#4. New Year's Day
#5. New Year's Eve
#6. December 23rd (Day Before Christmas Eve)
#7. Two Saturdays Before Christmas Eve
#8. Fourth of July (Independence Day)
#9. Saturday of Memorial Day Weekend
#10. Saturday Before Valentine's Day
Credit: Image by Bigstockphoto.com.