Jewelry Blog Rockford, IL
Rising Star Andrew Benintendi Assists Red Sox Fan With Surprise Marriage Proposal May 9, 2018
Rising star Andrew Benintendi of the Boston Red Sox had a memorable day at the ballpark on Saturday. Not only did he go 3-for-5 with a triple and double in the Red Sox's 6-5 victory over the Texas Rangers, but he also earned an assist with a very romantic pre-game marriage proposal.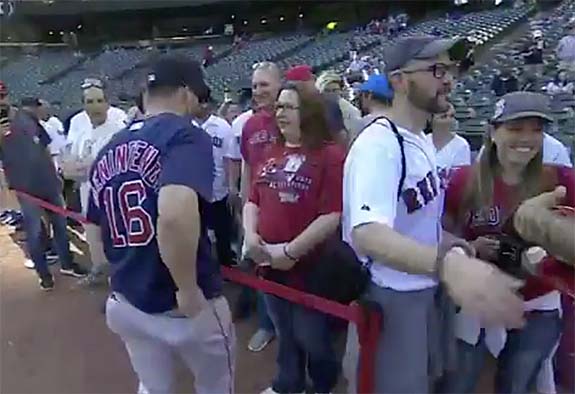 During batting practice at Globe Life Park in Arlington, Texas, a couple from Arkansas — dressed in his-and-her Red Sox regalia — was among a small group of devoted fans allowed on the field to meet the players. Little did the woman know that her boyfriend had plotted a special on-field proposal with the help of a former Arkansas Razorback.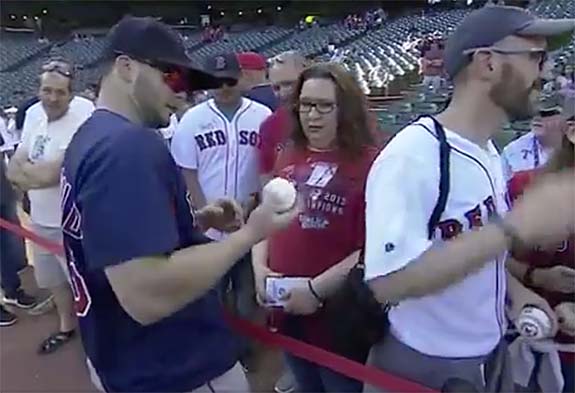 Benintendi, who was born in Cincinnati and played college ball in Arkansas, went up to a woman in the meet-and-greet line and presented her with a baseball that he pulled from his back pocket. Written in bold marker across the ball were the phrases, "Turn Around" and "Will You Marry Me."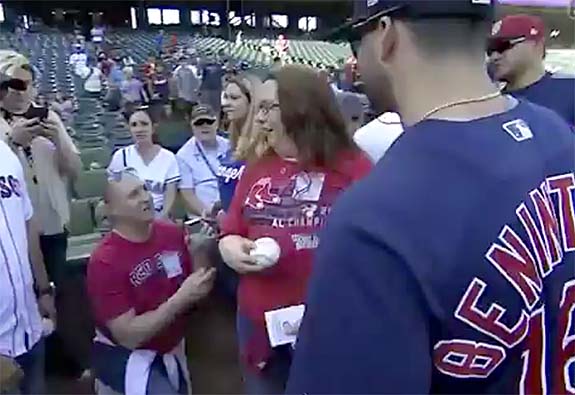 The stunned woman spun around to see her boyfriend on bended knee with an engagement ring box in his hand.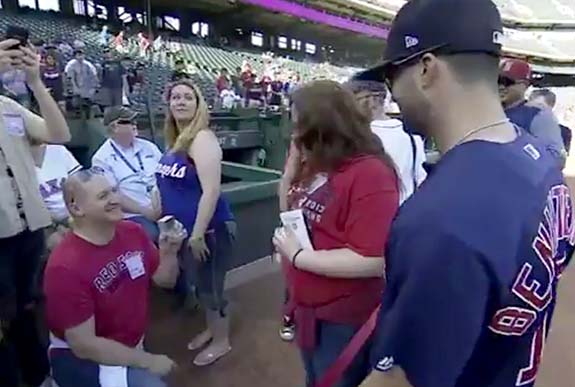 The man nervously fumbled with the ring and asked the woman to marry him. Major League Baseball cameras captured the special moment when she said "Yes" and he slipped the ring on her finger.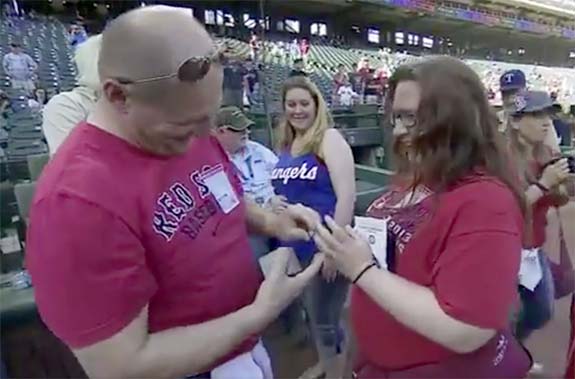 Under the caption, "It's hard not to be romantic about baseball," the Red Sox organization posted the proposal video to its Twitter page.
One clever fan commented, "Takes a brave man to have @asben16 give his lady a ball that says "Will you marry me?" I'd be like, well I barely know you but what the hell! You only live once!"
The 23-year-old Benintendi told NESN's Guerin Austin that it was "pretty cool" to be part of the marriage proposal.
Benintendi was drafted by the Red Sox in 2015 and joined the major league team in August of 2016. In his first full year, Benintendi was the second-place finisher for the American League's Rookie of the Year.
Screen captures via Twitter/Red Sox.