Jewelry Blog Rockford, IL
Reimagined Gem Halls at American Museum of Natural History Set to Reopen This Spring February 17, 2021
Fans of the American Museum of Natural History in New York City are anxiously awaiting the Spring 2021 reopening of the completely reimagined Allison and Roberto Mignone Halls of Gems and Minerals.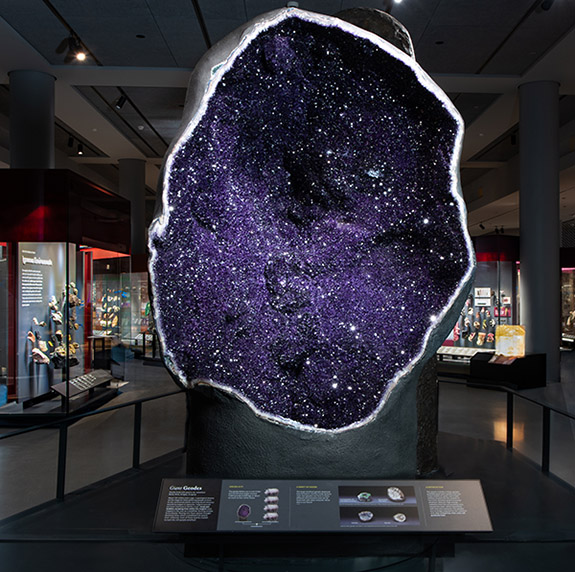 The 11,000-square-foot halls will feature some remarkable new attractions, including two amethyst geodes that are among the world's largest on public display. Sourced in Uruguay, the geodes tower to a height of 12 feet and 9 feet, respectively.
Other high-profile specimens include the legendary 563-carat "Star of India" sapphire, 632-carat Patricia emerald, a 3,000-pound block of iridescent green and blue labradorite and the 9-pound almandine "subway" garnet that was discovered under Manhattan's 35th Street in 1885.
Titled "Beautiful Creatures," the renovated hall's first temporary exhibition gallery celebrates historic and contemporary jewelry inspired by animals. The gallery will include pieces by Cartier, Bulgari and Tiffany & Co., as well as by contemporary designers, such as Bina Goenka.
"When I first started as a curator at the Museum over 40 years ago, the most recent version of these galleries had just opened. Science has progressed significantly in that time, such as with the concept of mineral evolution," said George E. Harlow, curator of the new halls. "These new exhibits will present our current scientific understanding of gems and minerals, present the environments in which they form, and focus on the intimate relationship between minerals and life."
The section of the museum that will house the Mignone Halls of Gems and Minerals had long been a cul-de-sac, which could be entered and exited only from the south end. In the new configuration, the halls will be linked to the new Gilder Center, allowing visitors to circulate with greater ease and less congestion.
With interactive displays, touchable specimens and media, the halls' redesigned exhibits will tell the fascinating story of how the vast diversity of mineral types arose on Earth, how scientists classify them and how humans have used them throughout the millennia for personal adornment, tools and technology. Exhibits will showcase about 5,000 specimens from 95 countries.
The new Mignone Halls of Gems and Minerals were designed by Ralph Appelbaum Associates together with the American Museum of Natural History's award-winning Exhibition Department under the direction of Lauri Halderman, vice president for exhibition. The halls are named for Roberto and Allison Mignone, longtime AMNH supporters and volunteers. Roberto is a Museum Trustee and Allison is vice chair of the Museum's Campaign.
Credit: Image by D. Finnin/© AMNH.