Jewelry Blog Rockford, IL
Pizza Ring Empowers Aussie Woman to Pop the Question During Soccer Match March 11, 2020
In early February, we announced that the Aussie division of Domino's was giving away a one-of-a-kind, pizza-slice engagement ring topped with bubbly diamond "cheese" and ruby "pepperoni." This past Friday, the lucky winner got down on one knee and proposed to her boyfriend just after he scored a goal in the waning minutes of an Adelaide soccer match.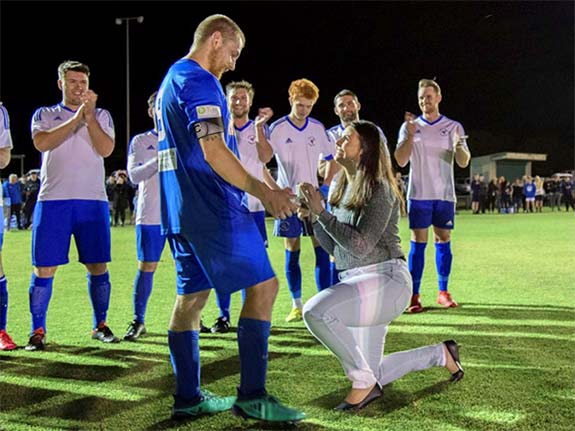 "I went to take the kick and I turned around and saw all the boys lining up," said Jamie Bowes. "I thought, 'Oh, the game must be over' but then I saw Jasmine on the field, and I thought, 'Why is she here? What is she doing?'"
His now-fiancée Jasmine Ireland pulled off the surprise proposal with the help of Domino's, the referee, Bowes' coach and the players on both teams. With their friends and family in the stands, Ireland marched onto the field and the teams parted "like the Red Sea," according to the official Domino's account.
"When she got down on one knee, I just couldn't believe it," Bowes said. "I was in shock! I'm still in shock. I had no idea she had been planning this with the rest of the team and my coach!"
Ireland and Bowes have been together for two years and are the parents of seven-month-old Jarvis. Inspired by Leap Day (a time when traditional roles are reversed) and International Woman's Day (March 8), Ireland decided to take matters into her own hands.
"I was so nervous and excited," she said. "It was amazing to have all my family and friends around me, including my sister who made a special trip from Brisbane to Adelaide just to be here to watch me propose."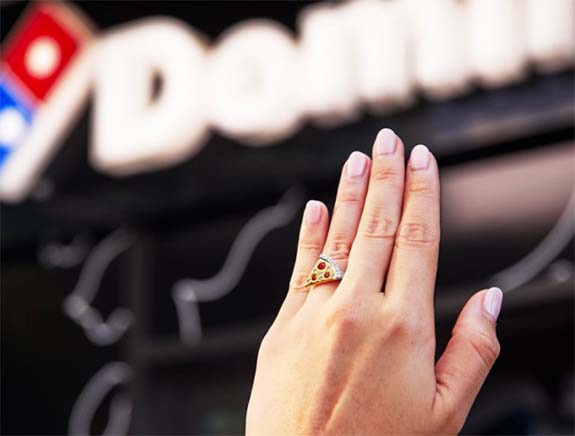 Fabricated in 18-karat white and yellow gold, the ring has a value of AU$9,000, which is equivalent to about US$6,000. The design features a triangular "slice" of yellow gold pizza garnished with three pieces of ruby "pepperoni" of varying sizes and six smaller accent diamonds that look like bubbling cheese.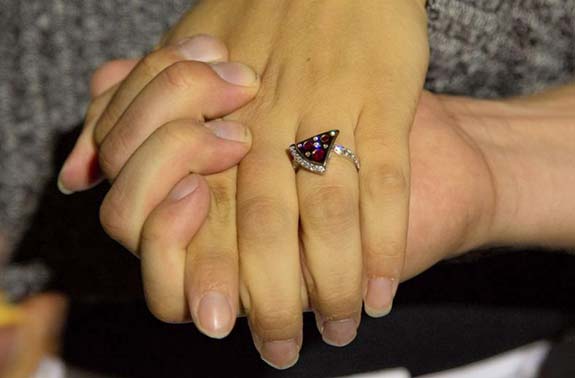 "The ring is everything I thought it would be and more," she added. "I can't stop staring at it… I can't believe it's mine!"
In order to win, contestants had to submit a 30-second video detailing how they will involve pizza in their proposal.
In her submission, Ireland described how pizza is the cornerstone of the couple's relationship.
"We met playing club soccer and we had a bet that whoever got a goal, the other one had to shout 'pizza,'" she said. After each game, the couple would head to Domino's for dinner.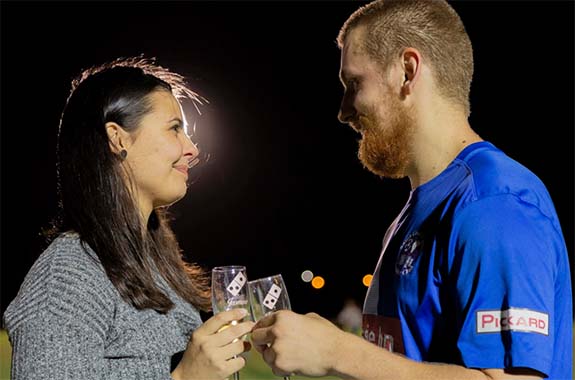 After the on-field proposal, Domino's treated the newly engaged couple and their guests to a Garlic Bread Guard of Honor and a special Domino's feast.
Nearly 300 video entries were received in Domino's pizza proposal competition from across Australia and New Zealand.
"We were overwhelmed by the power of pizza to bring people closer," said Domino's chief marketing officer Allan Collins. "It just goes to show that sometimes all it takes is great conversation over some great food for sparks to fly."
Credits: Images courtesy of Domino's.