Jewelry Blog Rockford, IL
New Survey: 63% of Couples Pick Their Diamond Engagement Ring Together December 7, 2020
For generations, grooms-to-be have been faced with the daunting task of picking out the perfect engagement ring. Sometimes they got it right and sometimes they got it wrong. With the engagement ring being the second-highest-priced item of all the couple's wedding expenses (the venue is #1), grooms are now acknowledging that they could use a lot of help.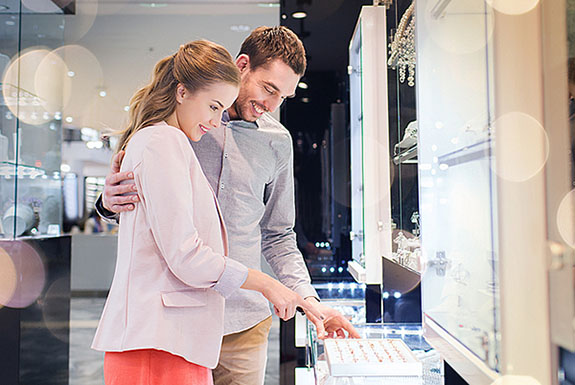 According to a brand new survey commissioned by the Natural Diamond Council and carried out by One Poll, 63% of couples reported that they picked out their precious ring together, rather than having the ring chosen by the partner who would be popping the question.
These results seem to mesh with recent reports from The Knot, which revealed that 7 of 10 "proposees" were "somewhat involved" in selecting or purchasing their engagement ring, and nearly a quarter of that group (23%) said they looked at rings with their partner.
The recent One Poll survey also confirmed that white, colorless diamonds are still overwhelmingly favored by newly engaged couples. Two-thirds of the 2,000 respondents made this more traditional choice.
"Despite all the ways in which our society has evolved over the centuries, the diamond endures as the ultimate expression of love and commitment and the most beautiful way to mark life's most precious moments," Lisa Levinson of the Natural Diamond Council told harpersbazaar.com.
Survey respondents also noted that clarity was the most important consideration when buying a diamond, followed by the setting type and the uniqueness of the design. Surprisingly, they reported their ideal center stone to be 2.2 carats. This number seems to be high and might reflect a very affluent group of respondents.
The survey also encouraged respondents to reveal their favorite celebrity engagement ring of all time. The Top 10 answers are below…
1. Catherine, Duchess of Cambridge's oval blue sapphire engagement ring
2. Meghan, Duchess of Sussex's trilogy ring with a cushion-cut center diamond flanked by two smaller diamonds
3. Singer Miley Cyrus' 19th century vintage old mine cut diamond in a solitaire setting
4. Model Hailey Bieber's oval-shaped diamond engagement ring
5. Singer Beyonce's 18-carat emerald-cut diamond ring
6. Actress Elizabeth Taylor's Krupp diamond ring
7. Rapper Cardi B's pear-shaped diamond ring with two diamond halos
8. Singer Demi Lovato's multi-carat emerald-cut ring with two smaller diamonds
9. Reality star Kim Kardashian's 15-carat cushion-cut diamond ring
10. Socialite Paris Hilton's 20-carat pear-shaped diamond accented with smaller diamonds
Credit: Photo by BigStockPhoto.com.