Jewelry Blog Rockford, IL
Music Friday: Rod Stewart Gets a Diamond Ring in the Holiday Classic, 'Merry Christmas, Baby' December 14, 2018
Welcome to a special holiday edition of Music Friday, when we feature awesome songs with jewelry, gemstones or precious metals in the title or lyrics. Today, rock legend Rod Stewart sings about a new diamond ring in his soulful rendition of the 1947 classic, "Merry Christmas, Baby."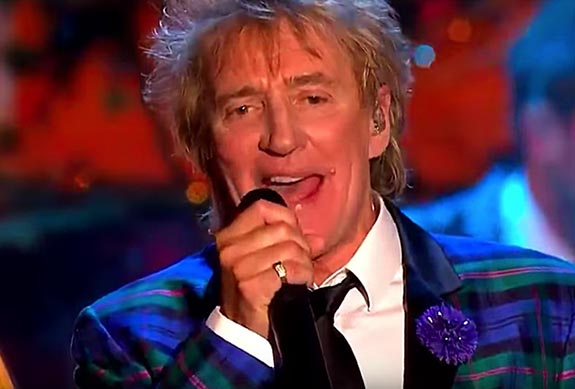 In the first verse of the song, we learn that Stewart couldn't be more thrilled with his girlfriend's holiday gift selection — a gift that he's clearly wearing on the pinky of his right hand.
He sings, "Merry Christmas baby / Sure did treat me nice / I said Merry Christmas baby / You sure did treat me nice / Bought me a diamond ring for Christmas / And I feel like I'm in paradise, alright."
Originally recorded more than 70 years ago by Johnny Moore's Three Blazers, this R&B holiday standard has been covered by a Who's Who of music-industry royalty, including Chuck Berry, Otis Redding, B.B. King, Elvis Presley, Bruce Springsteen, Etta James, Melissa Etheridge and Christina Aguilera.
"Merry Christmas, Baby" is the title track of Stewart's first Christmas album, which sold more than 2.6 million copies and charted in 21 countries when it was released in 2012. The album rose to #3 on the U.S.
Billboard
200 albums chart and scored a #1 position on the Canadian albums chart.
Stewart, who was knighted in 2016, is one of the best-selling music artists of all time, having sold more than 100 million records worldwide.
Interestingly, his road to success was hardly paved with gold. Born in London in 1945, Stewart was the youngest of five children and aspired to be a professional soccer player. He was also a big fan of Al Jolson, Little Richard and Bill Haley. Stewart got his first guitar as a 14-year-old and performed with a local jazz group.
He dropped out of school at age 15 and tried out unsuccessfully for a third-division soccer club. With his career options limited, Stewart turned to music.
In his 2012 autobiography he admitted, "They're the only two things I can do actually: play football and sing."
In 1962, he and folk singer Wizz Jones honed their musical skills as they performed for tips on the street corners at Leicester Square and other London spots. They took their act to Paris and then to Barcelona, where Stewart was famously deported for vagrancy in 1963. Upon returning to London, Stewart joined the Dimensions as a harmonica player and part-time vocalist. His big break would come four years later when he was recruited by Jeff Beck to be a vocalist for the Jeff Beck Group.
Please check out the video of Stewart's live performance of "Merry Christmas, Baby" at Stirling Castle in Scotland in 2017. The lyrics are below if you'd like to sing along...
"Merry Christmas, Baby"
Written by Johnny Moore and Lou Baxter. Performed by Rob Stewart.
Merry Christmas, Baby
Sure did treat me nice
I said Merry Christmas, Baby
You sure did treat me nice
Bought me a diamond ring for Christmas
And I feel like I'm in paradise, alright
I feel mighty fine, y'all
I've got music on the radio
Said I'm feeling mighty nice y'all
I've got music on the radio
I feel like I' wanna kiss you
Standing beneath that mistletoe
Santa came down the chimney
Half past three, y'all
And he left all them good presents
For my baby
I said Merry Christmas, Baby
Sure did treat me nice
You bought me all them presents
Now I feel like I'm in paradise
Well Santa came down the chimney
About half past four
Left all them presents for me
Dryin' on the floor
I said Merry Christmas, Baby
Sure did treat me nice
Bought me a diamond ring for Christmas
And I feel like I'm in paradise
Merry Christmas
You sure have treated me well
Merry, merry Christmas
You sure have treated me well
You bought me that Cartier watch for Christmas
And I feel I'm in paradise
Merry Christmas
Merry Christmas
May the good Lord be with ya
May the good Lord be with ya
May the good Lord be with ya
Credit: Screen capture via YouTube/Petridisgeorge.</em