Jewelry Blog Rockford, IL
Music Friday: 5 Golden Rings Shine in This Famous Mashup of 'The 12 Days of Christmas' December 21, 2018
Welcome to a special holiday edition of Music Friday when we bring you fabulous songs with jewelry, gemstones or precious metals in the lyrics or title. Today we present one of the most popular Christmas tunes on YouTube — Straight No Chaser's clever mashup of "The 12 Days of Christmas." To date, the original version of a cappella group's "12 Days" has been viewed more than 22 million times.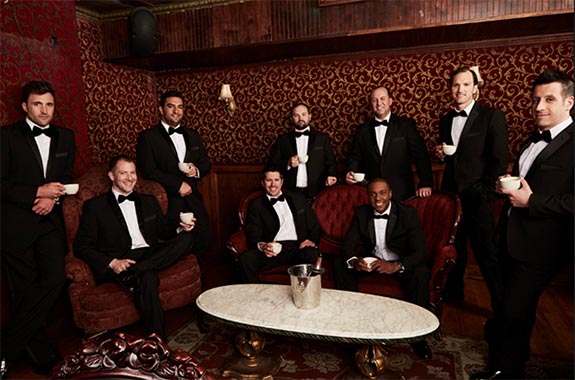 As everyone knows, the jewelry reference in this holiday favorite comes on the fifth day of Christmas when "my true love gave to me, five golden rings."
Straight No Chaser's "12 Days" is famous for its comic infusions of other songs, such as "I Have a Little Dreidel" and Toto's "Africa." SNC's version of the popular Christmas song was inspired by a 1968 comic arrangement of the song by Richard C. Gregory, a faculty member of The Williston Northampton School in western Massachusetts.
Originated on the campus of Indiana University in 1996, Straight No Chaser is truly a grassroots, internet-inspired phenomenon. The 10-man group owes its worldwide fame to a video of its 1998 performance that was first posted to YouTube eight years later. That video went viral and caught the attention of Atlantic Records CEO Craig Kallman, who signed the group to a five-album deal in 2008.
"The 12 Days of Christmas" appeared at the eighth track from the group's debut studio album,
Holiday Spirits
, which peaked at #46 on the U.S.
Billboard
200 albums chart.
The song's origin can be traced to England in 1780, where is was published as a chant or rhyme. The standard tune associated with it is derived from an arrangement credited to English composer Frederic Austin in 1909. Interestingly, he's the one who came up with the idea of prolonging the phrase "five... golden... rings..."
Straight No Chaser is currently on tour with shows set for in Indianapolis, Mesa, Hollywood, Oakland, Portland, Honolulu, Kahului and Waimea.
Check out the video of Straight No Chaser's live performance of "The 12 Days of Christmas." We know it will brighten your holidays. Enjoy!
Credit: Promotional photo courtesy of Atlantic Records.