Jewelry Blog Rockford, IL
Man Ridiculed for Eating Kit Kat the 'Wrong' Way Proposes With a Kit Kat-Shaped Ring Box July 12, 2018
A Washington, D.C., man who was widely ridiculed on social media for eating a Kit Kat bar the "wrong" way got the last laugh when The Hershey Company came to his rescue by creating a custom Kit Kat-shaped engagement ring box for his marriage proposal.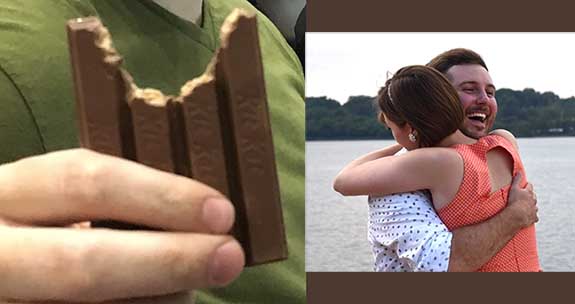 On May 31, Haley Byrd shared a picture on Twitter of a Kit Kat bar that her boyfriend, Evan Wilt, had just sampled for the first time.
Byrd captioned the photo, "'I don't think I've ever had a Kit Kat before,' my boyfriend remarks before doing THIS."
Instead of "breaking off" a segment of chocolate wafer — as the Kit Kat jingle advises — he chomped through each of the four segments, leaving a half-moon-shaped bite mark.
Apparently, in the Kit Kat world this is an unforgivable offense, and the Twittersphere called for Byrd to dump her boyfriend, pronto.
CNN news anchor Jake Tapper chimed in on Twitter, "Break up with him at once."
Even Dictionary.com got into the act, writing on Twitter, "Break off: What one does to a @KITKAT. Also, break off: What one might do to a relationship with someone who does this." The post was punctuated with a finger emoji pointing at a repost of Byrd's comment about her boyfriend's odd approach to eating a Kit Kat bar.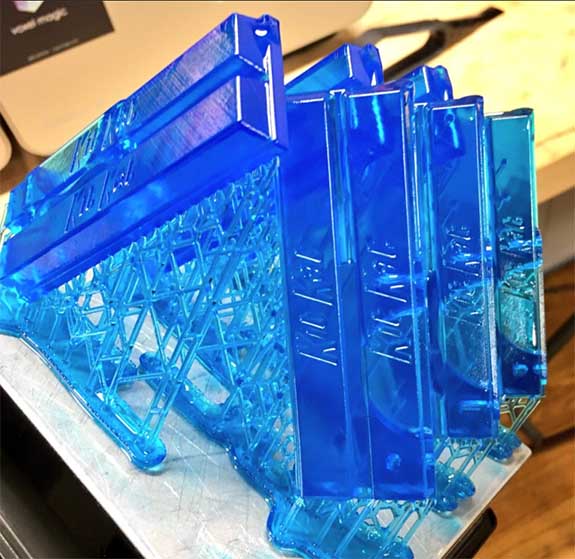 But, while critics were calling for Wilt's ouster, Kit Kat's U.S. parent company, Hershey's, was employing a 3D printer for a special project on behalf of the young suitor.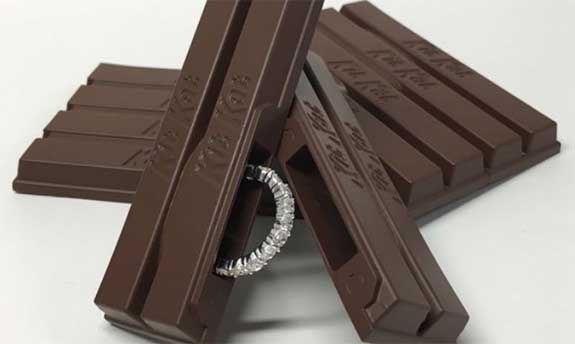 On the Fourth of July at the National Arboretum in Washington D.C., Wilt proposed to Byrd with an engagement ring neatly hidden in a ring box that was an exact replica of a Kit Kat bar. The custom ring box was designed with an inset for the ring and a clever magnetic closure that allowed the box to break apart to reveal the ring inside.
"Haley is truly one of a kind and I knew I wanted to do something special for the proposal," Wilt told
Us Weekly
. "When Kit Kat reached out, I saw this as an opportunity to create an unforgettable moment."
"I had no idea the proposal was coming that day," Byrd told Fox News. "My mom tricked me into thinking we were going to take family photos at the Jefferson Memorial, and when we showed up Evan was there with his whole family. When I saw the Kit Kat box, I just started laughing. It was such a neat experience, and I am beyond grateful that Evan put so much thought into it."
After accepting Wilt's proposal, Byrd was back on Twitter with snapshots of the romantic moment and this clever caption, "He still doesn't know how to eat a Kit Kat."
Added Kit Kat on Twitter, "He truly is the Kit to your Kat @byrdinator! So glad we could provide a small break in your magical moment!"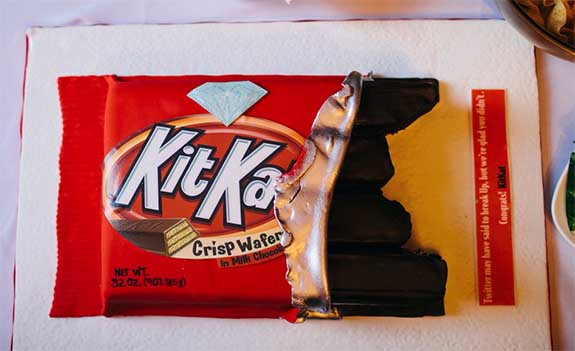 Kit Kat also provided an array of goodies — including this Kit Kat cake (with Wilt's simulated bite marks) — for the couple's engagement party.
World Radio summed up the story with this tweet on July 9, "@EvanWilt_ may not know how to eat a #KitKat, but he does know how to get the girl."
Credits: Images via Twitter/KitKat_US, Twitter/EvanWilt_, Twitter/byrdinator.