Jewelry Blog Rockford, IL
Louis Vuitton Buys Historic 1,758-Carat 'Sewelô' Diamond From Lucara Diamond Corp. January 20, 2020
French luxury brand Louis Vuitton has purchased the historic 1,758-carat Sewelô diamond from Lucara in a deal that allows the mining company to retain a 50% interest in the individual polished diamonds that result from the cutting of the massive stone. The amount of Louis Vuitton's upfront payment was not disclosed.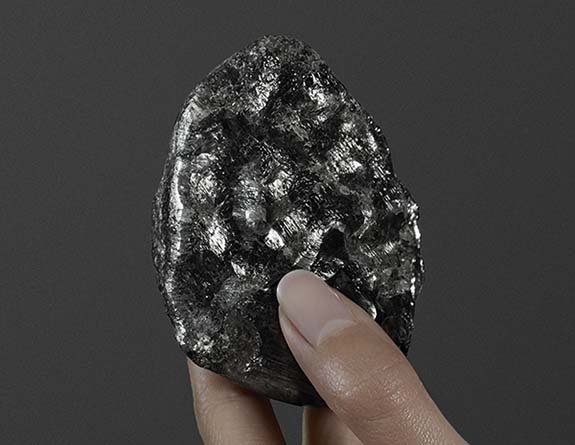 Sewelô, which means "rare find" in Setswana, was recovered from Lucara's Karowe Diamond Mine in Botswana in April 2019. It ranks as the world's second-largest rough diamond. Only the 3,106-carat Cullinan, which was discovered in South Africa in 1905, was larger. The Cullinan was eventually cut into nine principle stones (some of which now form part of the British royal family's crown jewels) and 96 smaller stones.
Louis Vuitton will be working with Antwerp-based diamond manufacturer HB Company to determine the optimal way to divide the tennis ball-sized diamond in order to deliver its full potential. According to published reports, the size, shape and quantity of polished diamonds that Sewelô will yield may take a year to finalize due to the complexity and high stakes of the task at hand.
The New York Times
reported that Louis Vitton's manufacturing partners are already talking about potential principle diamonds — a 904-carat cushion, an 891-carat oval or several smaller diamonds ranging between 100 and 300 carats.
Lucara had previously characterized the stone as near-gem quality. A more recent analysis confirmed that the stone includes domains of higher-quality white gem.
Amazingly, the Karowe Diamond Mine in Botswana has yielded two 1,000-plus-carat diamonds. The 1,111-carat Lesedi La Rona, which was unearthed in 2015, had been purchased for $53 million by British luxury jeweler Graff Diamonds and divided into one principle emerald-cut stone weighing 302 carats and 66 smaller diamonds of varying shapes.
Lucara also announced that 5% of all the proceeds generated from the Sewelô collection will be earmarked for community-based initiatives in Botswana.
Lucara CEO Eira Thomas commented: "We are delighted to be partnering with Louis Vuitton, the famous luxury house, to transform the historic, 1,758-carat Sewelô, Botswana's largest diamond, into a collection of fine jewelry that will commemorate this extraordinary discovery and contribute direct benefits to our local communities of interest in Botswana."
Credits: Image (top) courtesy of Louis Vuitton. Image (middle) courtesy of Lucara Diamond Corp.