Jewelry Blog Rockford, IL
Hershey's Is Betting That Its Newest Flavor Profile Will Have Consumers Going for the 'Gold' December 5, 2017
Who knew gold was a flavor? On Friday, Hershey's Gold — a candy bar crafted from caramelized creme and packed with peanuts and pretzels — started hitting shelves at supermarkets and sweet shops from coast to coast.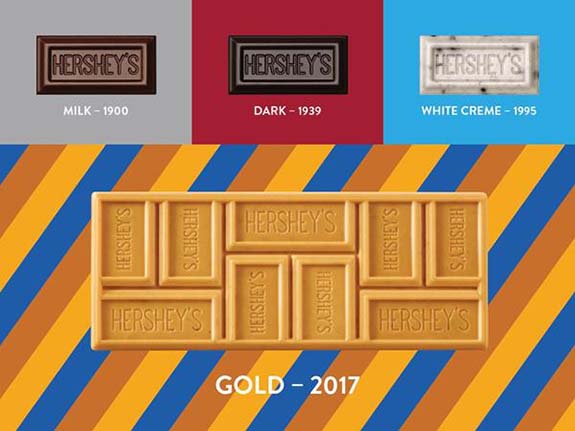 "Gold" is only the fourth flavor profile in the 123-year history of the iconic brand, which first delighted consumers with its milk chocolate confection in 1900. Hershey's Special Dark chocolate was introduced in 1939 and Cookies 'n Creme came along in 1995.
What's particularly interesting about Hershey's first new flavor in 22 years is that it contains no chocolate at all.
"The buttery, sweet taste of Hershey's Gold bars provides an entirely new way for consumers to enjoy our brand," said Melinda Lewis, senior director and general manager at The Hershey Company. "We use a proprietary cooking process to transform the white creme into a golden bar by caramelizing the creme, which helps maintain a sweet, creamy taste. The launch of Hershey's Gold will introduce Americans to a new flavor and a new experience unlike any others before."

The introduction of Hershey's gold-themed bar is perfectly timed to align with the 2018 Olympic Winter Games in Pyeongchang, South Korea. Hershey's is an official sponsor of the United States Olympic Committee and has lined up high-profile brand ambassadors, including speedskater Apolo Ohno, gymnast Simone Biles and Paralympian Rico Roman.
Describing the bar's taste on NBC's
Today
show, Ohno stated, "It's perfect. We all we want to be able to get a bite of gold."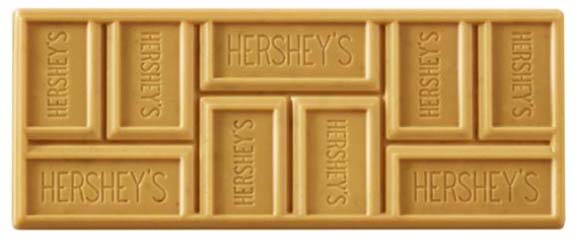 Whenever Team USA wins a gold medal, the brand will be posting a coupon on social media that could result in a free Hershey's Gold bar.
The Hershey Company noted that the development of the new bar was driven by the changing tastes of a demanding consumer base. Trends show the rising popularity of crunchy multi-textured candy. With Hershey's Gold bars, the company recognized that consumers favor a complex combination of ingredients, which led to the unique variation of sweet and salty, crunchy and creamy.
The new flavor is available in both standard and king-sized bars.
Credits: Images courtesy of Hershey's.