Jewelry Blog Rockford, IL
Greville Emerald Tiara Takes Center Stage at Princess Eugenie's Royal Wedding October 15, 2018
As Princess Eugenie exchanged wedding vows with Jack Brooksbank on Friday at St. George's Chapel in Windsor Castle, England, all eyes were on her magnificent emerald tiara.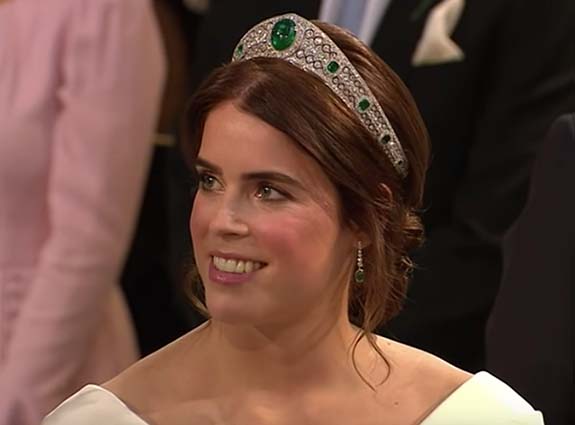 Dubbed the Greville Emerald Kokoshnik Tiara, the diamond-encrusted platinum headpiece features a 93.7-carat oval-shaped emerald center stone flanked by six additional emeralds on each side. Jewelry experts have pegged the value of the tiara at somewhere between $6.5 million and $13 million.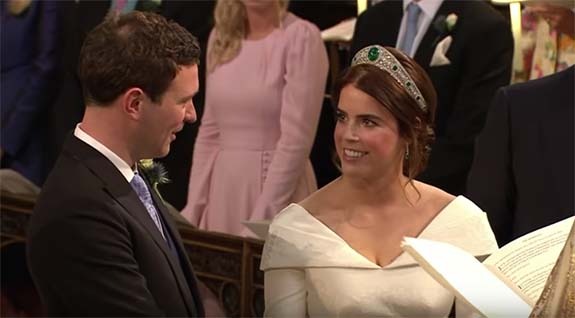 The Greville Tiara was lent to Princess Eugenie by her 92-year-old grandmother, Queen Elizabeth II.
The emerald tiara was originally designed for Dame Margaret Greville in 1919 by Parisian jewelry house Boucheron. The tiara reflects the "kokoshnik" style popularized by the Russian Imperial Court and introduced into western Europe after the Russian Revolution.
When she died in 1942, the socialite left many of her jewels — including the Greville Tiara — to the Queen Mother. Queen Elizabeth II inherited the piece when her mother passed away in 2002 at the age of 101.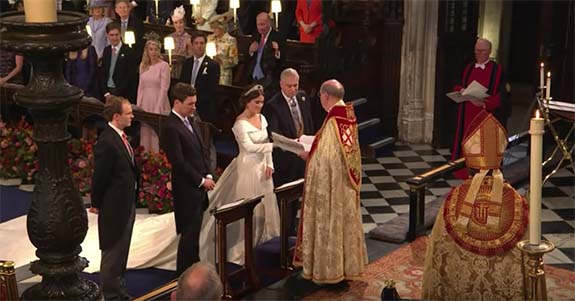 Throughout the pageantry of the royal wedding, the tiara was in constant view because the 28-year-old bride chose to forgo the traditional veil.
Her choice of tiara surprised many royal watchers. They had speculated that Princess Eugenie would wear the York tiara, which her mother, Sarah Ferguson, Duchess of York, donned when she married Prince Andrew in 1986.
Instead, Princess Eugenie decided to "go green." Her emerald tiara was complemented by emerald drop earrings, a gift from the 32-year-old groom.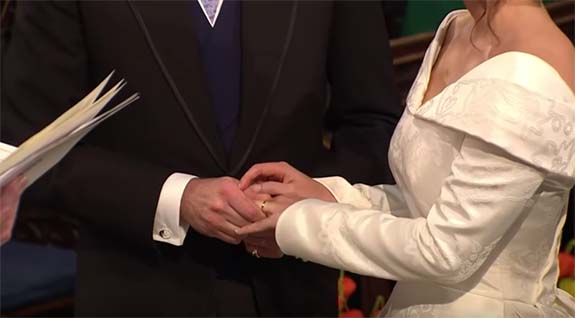 During the marriage ceremony at St. George's Chapel, Brooksbank placed a simple gold wedding band on his bride's finger. Despite its simplicity, the ring reflects a rich royal family tradition. Since the Queen Mother's wedding in 1923, the royal family's wedding bands have been crafted of pure Welsh gold, sourced at the Clogau mine in Bontddu.
The mine dates back to the Bronze Age, and commercial mining began there in the mid-1880s. The mine was closed in the 1990s, but Queen Elizabeth II had received a kilogram of the rare gold for her 60th birthday in 1986. The Queen's reserves have been the source of royal wedding bands ever since.
Credits: Screen captures via YouTube.com/The Royal Family Channel.