Jewelry Blog Rockford, IL
Glistening With 4,517 Diamonds, World's Most Valuable Handbag Is Up for Grabs October 25, 2017
Reflecting 8,800 hours of meticulous craftsmanship by 10 artisans, "The Mouawad 1001 Nights Diamond Purse" incorporates 4,517 diamonds with a total weight of 381.92 carats. The one-of-a-kind masterpiece, which Guinness World Records certified in 2010 as the most valuable handbag in the world, will be offered by Christie's via its "Private Sales" service.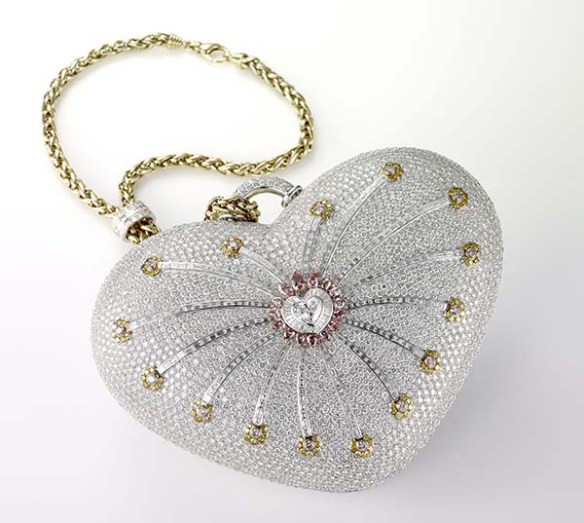 In 2010, the bag was valued at $3.8 million. For this transaction, Christie's will be brokering a deal between the seller and prospective high-net-worth buyers outside of the auction room.
Internationally acclaimed jeweler Robert Mouawad took his design inspiration from
One Thousand and One Arabian Nights
, a collection of the world's most epic tales of romance, intrigue and fantasy. The resulting purse is a visual feast of white, yellow and pink diamonds set in 18-karat white and yellow gold.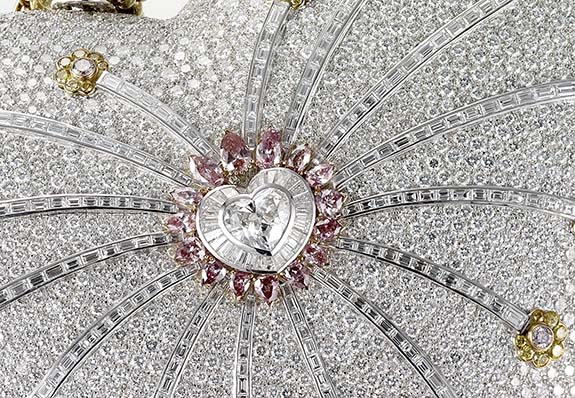 The focal point of the heart-shaped bag is a 5.04-carat heart-shaped white diamond, framed by white tapered baguettes and accented by a burst of 15 pear-shaped fancy vivid pink diamonds.
Overall, The Mouawad 1001 Nights Diamond Purse boasts 333.84 carats of white round diamonds, 27.51 carats of white baguette diamonds, 7.66 carats of fancy vivid yellow diamonds and 7.89 carats of fancy vivid pink diamonds.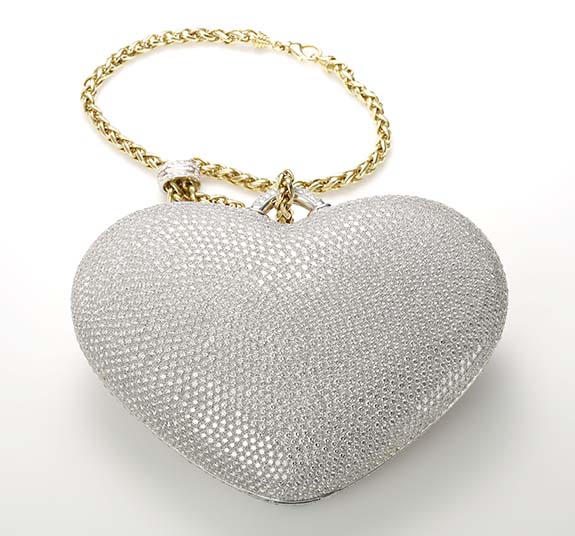 The bag just completed a four-day appearance at Christie's Hong Kong. The tour will continue at Christie's Geneva from November 9 -13 before returning to London.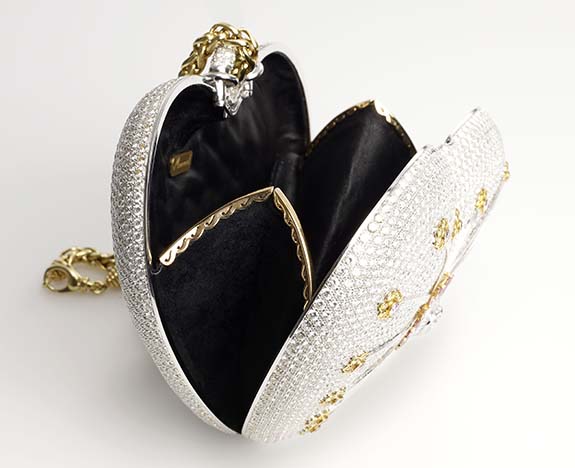 Besides owning the record for the world's most expensive handbag, Mouawad also created the world's priciest bra. The "Very Sexy Fantasy Bra," which was first revealed at a Victoria's Secret fashion show in 2003, was blinged out with 2,800 gemstones, including diamonds, sapphires and amethysts. The total weight of the gems was 2,200 carats and the value of the bra was said to be $11 million.
Credits: Images courtesy of Christie's.