Jewelry Blog Rockford, IL
Fort McMurray Man Reunited With Wedding Ring After It Was Pulled From the Sorting Line at Municipal Landfill August 15, 2017
A Fort McMurray man was reunited with his beloved wedding ring — just in time for his 10th anniversary — after it was spotted by an eagle-eyed sorter at the municipal recycling center.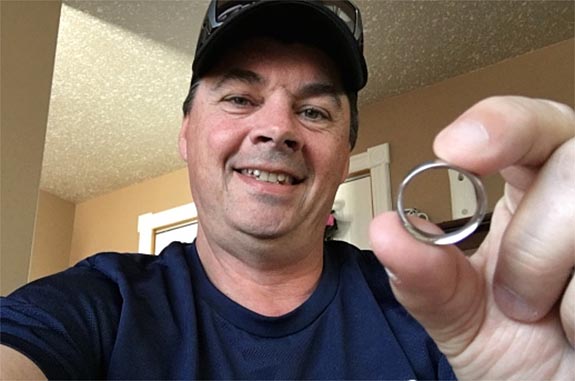 Darren Sammann can't imagine how his wedding ring made its way to the landfill managed by the Regional Municipality of Wood Buffalo in Alberta. What he does remember was that his ring was feeling a bit tight one night in late June, so he switched it from his ring finger to his pinky.
"The ring was bothering me," he told CBC News, "so I took it off and put it on my pinky for the first time in nine years and 10 months."
That strategy proved to be disastrous, because the ring was too big for his pinky and slipped off.
He scoured his workplace and his wife searched their house, but the ring was nowhere to be found.
On July 12, a sorter at the local recycling center spied something unusual on the sorting line. It was a white-metal wedding ring with a personalized inscription on the inside.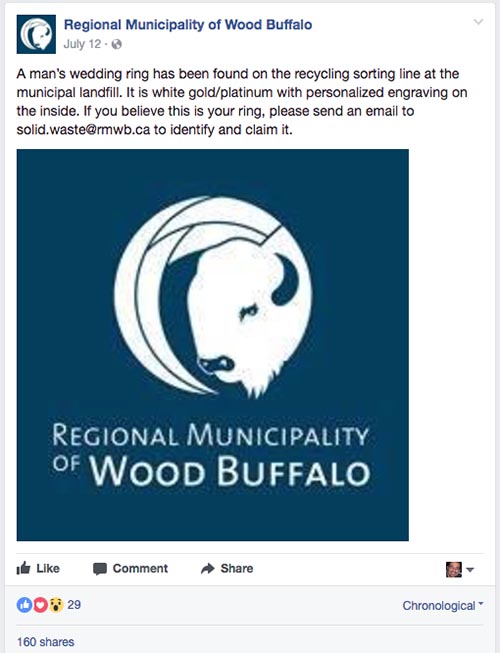 The Regional Municipality of Wood Buffalo posted an alert to its Facebook page, and the item was shared 160 times. The Municipality provided a contact email and encouraged the rightful owner to come forward by accurately identifying the ring.
A family member who saw the post alerted Sammann to the news that the recycling center recovered a ring that might be his.
"I was in total disbelief that it was found at a landfill," Sammann told CBC News.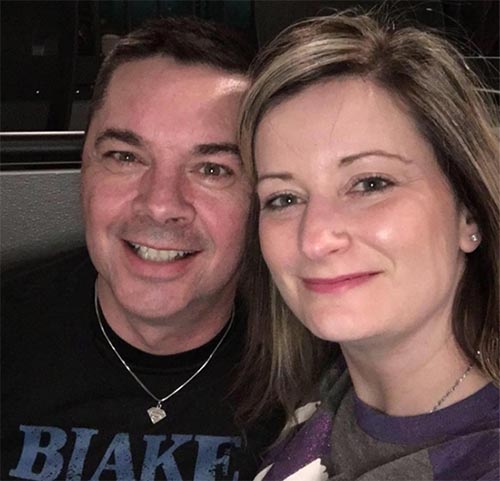 The recovery couldn't have come at a better time. Darren was proudly wearing his ring when he and his wife, Angie, celebrated their 10th anniversary this past Friday.
Darren Sammann is confident that his ring will never be lost again. He had the ring resized and now it fits perfectly.
"There's no need to take it off anymore," he said.
Credits: Images by Darren Sammann; Facebook.com/rmwoodbuffalo; Facebook.com/darren.sammann.