Jewelry Blog Rockford, IL
Engagement Season's New Look: Most Popular Proposal Date Slides to Number 3 December 21, 2021
Welcome to what is normally the pinnacle of "Engagement Season," the time of the year between Thanksgiving and Valentine's Day when 40 percent of all marriage proposals take place.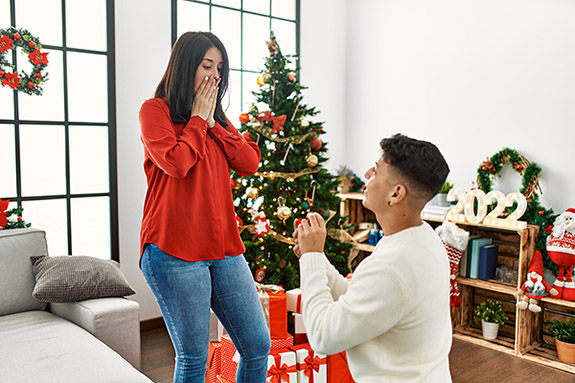 For years, Christmas Day was the most popular day to get engaged, followed by a wintry mix of favorites that included Christmas Eve, Valentine's Day, New Year's Day and New Year's Eve.
But, COVID threw a monkey wrench into the long-standing proposal patterns, and Christmas Day was surprisingly unseated in 2020, according to WeddingWire's 2021 Newlywed Report, which covered engagement-related activities throughout the full year of 2020.
Christmas had always been a time when families and friends came together from far and wide to celebrate the spirit of the season. It was also the perfect time to pop the question because loved ones were present to participate in the festivities.
But Christmas 2020 was very different from previous Christmases. Some states implemented COVID-related travel restrictions and many holiday travelers decided to stay home. The end result was that couples that otherwise would have gotten engaged on Christmas Day pushed their proposals into other parts of the calendar.
According to the most recent stats from WeddingWire, Valentine's Day is now the most popular day of the year to get engaged. Cupid's Day was followed by New Year's Day, Christmas Day, Christmas Eve and the Fourth of July (Independence Day). Interestingly, a bunch of warmer weather weekend dates, such as June 20th, September 12th, October 10th and May 16th cracked the list, presumably because of the prevalence of COVID-inspired fresh air proposals.
Outdoor proposals were huge in 2020, according the WeddingWire. Exactly 31% of its respondents said that they proposed in a scenic, outdoor location. Popping the question also tended to be more low-key, intimate and spontaneous.
These were the Top 5 Days to Get Engaged in 2020, according to WeddingWire...
Valentine's Day #1.
The team at WeddingWire believes that the most romantic day of the year nabbed the top spot on the list because the February 14th holiday actually took place just before COVID swept through the US.
New Year's Day #2.
This date moved up from third place in the previous survey. Clearly, a lot of couples chose to kick off the new year on a high note.
Christmas Day #3. The perennial favorite moved down to third place for reasons already mentioned.

Christmas Eve #4. A joyful time to share a festive meal, sit in front of a fireplace and open a present or two ahead of Christmas Day was also a great time to pop the question for many of WeddingWire's respondents.

Fourth of July (Independence Day) #5. This warm-weather holiday moved all the way up from the 10th spot in WeddingWire's previous survey. As the popular bridal site explained, most people have off from work on Independence Day and summertime in 2020 meant more opportunity for outdoor (and COVID-safer) activities and proposals.

We expect to see the top engagement dates rejiggered once again in WeddingWire's 2022 report.

Credit: Image by Bigstockphoto.com