Jewelry Blog Rockford, IL
Emmy Winner Proposes During Live Broadcast With a Ring 'More Valuable Than The Hope Diamond' September 19, 2018
To director Glenn Weiss, the simple gold wedding band his dad placed on his mom's finger 67 years ago is "more valuable than The Hope Diamond" — a fact that grew ever more significant when the Emmy winner proposed to his girlfriend Jan Svendsen on stage while accepting his award for "Outstanding Directing for a Variety Special."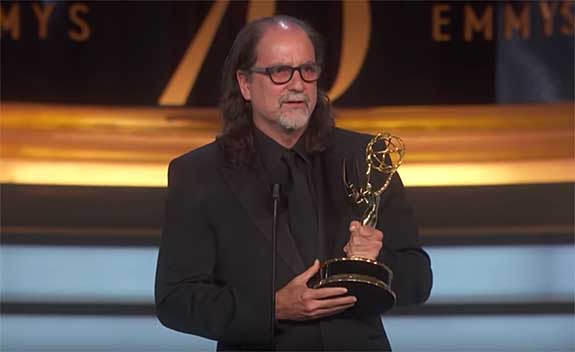 Weiss earned his Primetime Emmy for directing the Oscars ceremony on ABC, but what should have been a joyful speech started off as a melancholy acknowledgement of his mom's passing only two weeks ago.
"Part of my heart is broken," he said. "I don't think it will ever be repaired. But she's in me and she always will be."
But, then Weiss told the audience and millions of viewers at home that his mom always believed in finding the sunshine, and that Svendsen was the sunshine of his life.
"And Mom was right. Don't ever let go of your sunshine," he said, spying Svendsen in the crowd. "You wonder why I don't like to call you my girlfriend? Because I want to call you my wife."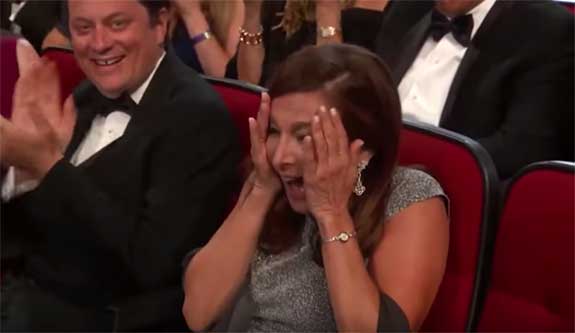 Cameras zoomed in on Svendsen's priceless reaction as the word "wife" left his lips.
Attendees of the 70th Primetime Emmy Awards from the Microsoft Theater in Los Angeles could sense something momentous was about to happen. And they were right.
Svendsen was ushered up to the stage, where Weiss started his marriage proposal by describing the significance of the ring.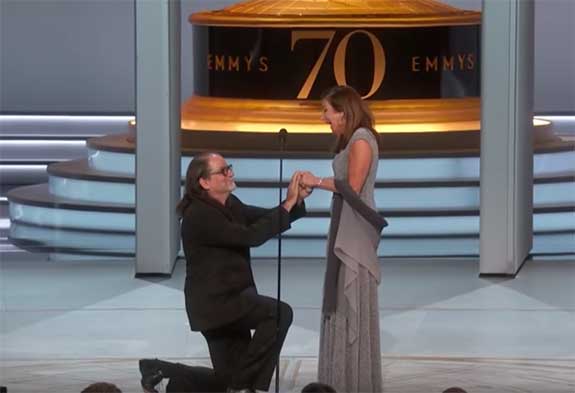 "Jan, I want to put this ring that my mom wore on your finger in front of all these people and in front of my mom and your parents watching from above," he said. "Will you marry me?"
Of course, she said, "Yes."
In a backstage interview, Weiss described the ring in more detail and the sensation of having it in his pocket in the lead-up to the awards ceremony.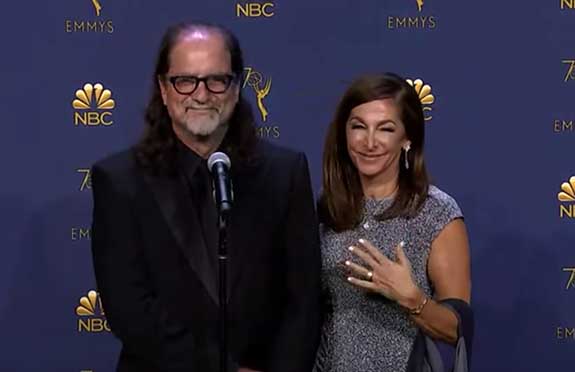 "It's not a diamond ring," Weiss clarified. "It's my mom's wedding ring, which, to me, is more valuable than The Hope Diamond."
"Walking around on the red carpet like nothing's happening with this thing sitting in my pocket was a nerve-racking experience," he continued. "It was such a valuable thing sitting right here, but now it's where it belongs."
Svendsen said that she had no idea that a marriage proposal was about to go down.
She stated: "I really hoped he was going to dedicate the award to his mother, and he did, and then some."
Weiss and Svendsen met in 2001 and have worked on awards shows together for about 10 years.
Check out the clip of Weiss's proposal. The action starts at the 1:30 mark.
Credits: Screen captures via YouTube.com/Television Academy, YouTube.com/Variety.