Jewelry Blog Rockford, IL
Deserving Illinois Couple Receives Free Engagement Ring From Jilted Virginian With Big Heart August 29, 2018
A Virginia man who had purchased a diamond engagement ring but was jilted before popping the question turned his heartbreak into hope by awarding the ring to a deserving Illinois couple.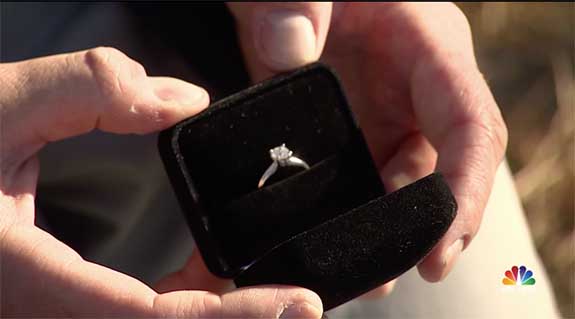 Steven Crocker was emotionally devastated last year when his girlfriend decided to break off their two-year relationship.
"I didn't know what to do with myself," he told
Inside Edition
. "My whole world flipped upside down."
But, then, he wondered if the $1,700 diamond ring might brighten the future for another couple.
"It's not about the money for me," said the 23-year-old. "It's about love."
So Crocker decided to give the ring away via an eye-catching Facebook offering titled, "FREE ENGAGEMENT RING - READ AND SHARE."
On Facebook, Crocker wrote, "It's not the fanciest ring in the world but it can potentially make someone very happy for the rest of their life."
He encouraged applicants to send their love stories and describe specifically why they were the most deserving.
"I don't want to give it away to just anyone," he wrote. "I want to give it to a guy or girl who is so in love with their significant other and wants to take the next step but cannot afford a ring. I don't think that anyone on MY friends list falls in that category, but someone out there does, which is why sharing this post is very much appreciated. I'll send it anywhere in the US where someone is head-over-heels."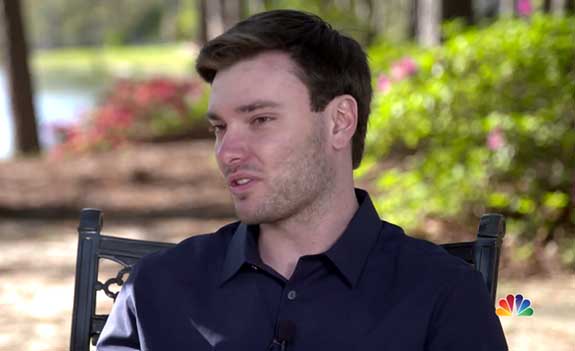 Crocker told
NBC Nightly News
that he didn't expect more than 50 entries, but ended up getting close to 2,000.
The young man recruited his friends to help review the submissions that included both written stories and videos.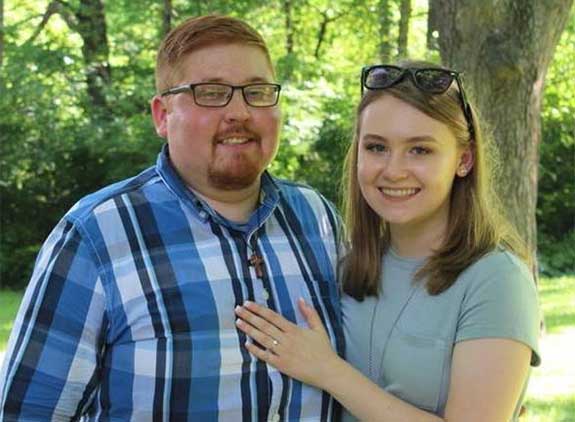 One story that caught Crocker's attention was from Sean Sullivan of Illinois. The teacher had been saving up for an engagement ring. He was planning to pop the question to his girlfriend, Natalie Kiernicki, but had to put his proposal plans on hold when he was diagnosed with multiple sclerosis (MS). He wasn't able to work and the medical bills were becoming overwhelming.
"I had to make the extremely hard decision to use the money I was saving for her ring to help cover my medical and other bills," Sullivan told
Inside Edition
.
Sullivan had sent to Crocker a 17-minute video that described the couple's commitment and love for one another.
"She's the reason I smile every day," Sullivan told
NBC Nightly News
.
Sullivan said he was overwhelmed when he learned that Crocker had picked him as the winner.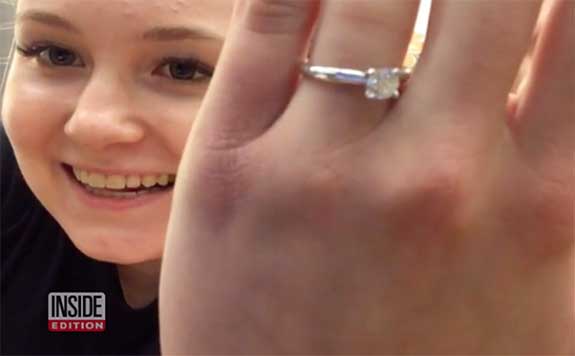 Kiernicki didn't know that her boyfriend had vied for the ring and was totally surprised when she got the exciting news.
"For someone to do this, it just shows there are still good people left in this world," Sullivan said. "He had no reason to do this for anybody and it's amazing he did this."
For Crocker, the experience left him optimistic that true love is in his future.
"I definitely know that my time is going to come," he said.
Credits: Screen captures via nbcnews.com; Couple image via Facebook/Natalie Kiernicki; Ring selfie screen capture via Insideedition.com.