Jewelry Blog Rockford, IL
Dance Superstar tWitch Helps 'Ellen' Fan With Flash Mob Surprise Marriage Proposal June 6, 2018
Dance superstar Stephen "tWitch" Boss helped choreograph an elaborate flash mob marriage proposal that Austin natives Patrick Barker and Johanna Alvarado will never forget.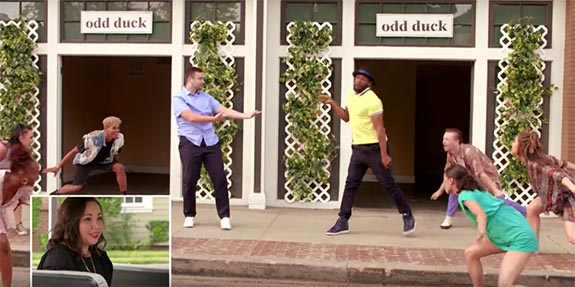 Barker had met tWitch on
The Ellen DeGeneres Show
, where the former
So You Think You Can Dance
alum has become the resident DJ. The break dance and hip-hop specialist just launched a new web series called "tWitch, Please... Help Me Dance!" — so when Barker hinted that he was planning to propose to his girlfriend, tWitch had the perfect plan.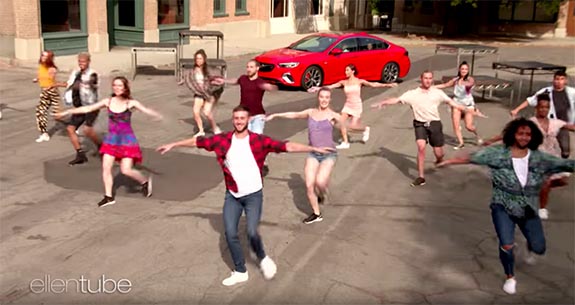 tWitch's ultimate surprise proposal takes place on the back lot of Warner Bros. studios. Alvarado believes she's taking a standard studio tour, but the scene quickly morphs into an elaborately choreographed flash mob — starring her boyfriend, tWitch and a troop of professional dancers.
The "tWitch, Please... Help Me Dance!" video shows Barker working on his dance moves under tWitch's tutelage. tWitch tells the groom-to-be that learning the moves will not be easy, but the end result will be well worth it.
"After this work, they'll be stories you can tell for years and years to come," tWitch says.
As the couple rides onto the Warner lot in a tour cart, the guide tells them and the other passengers that they need to be extremely quiet because they are about to witness the taping of a commercial.
Just then, she hears the opening refrain from Bleachers' "Let's Get Married" and the other passengers — actually professional dancers — take their places on the set.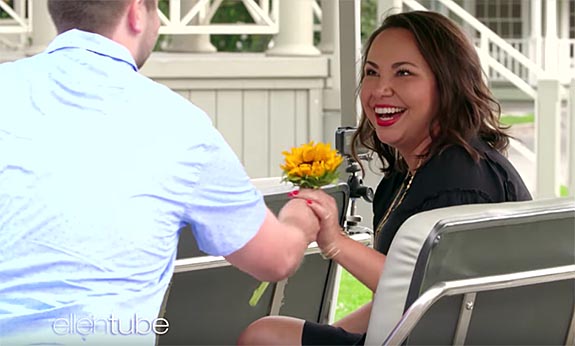 Barker hands Alvarado of sunflower and joins the dance troop.
Alvarado is overwhelmed as a storybook flash mob marriage proposal plays out in front of her eyes.
The future bride gets even more emotional when her parents and Barker's parents make a surprise appearance.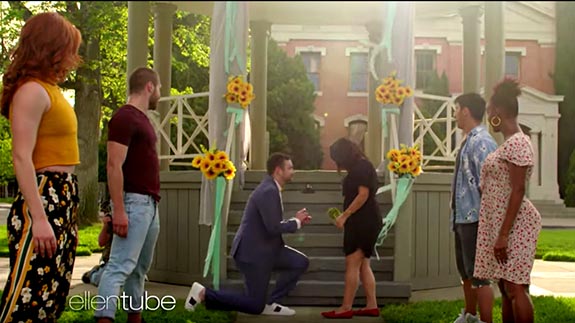 In the final scene, the bride is led from the tour cart to a gazebo, where her boyfriend has completed a costume change and is ready to propose.
Says Barker, "This is for you. This is for us. I love you so much and I want to spend the rest of my life with you. Will you marry me?"
"Yes, of course," she answers.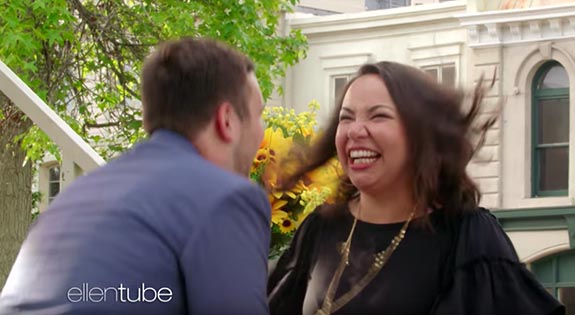 Alvarado is so excited, bouncing up and down, that Barker has a hard time trying to get the diamond ring on her finger. Finally, with the ring securely in place, the couple embraces, the music resumes and the dancers celebrate by doing what they do best.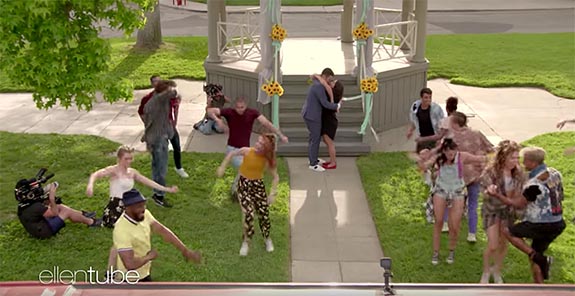 When asked by an interviewer how she felt about the flash mob proposal, Alvarado commented that she was "beyond happy."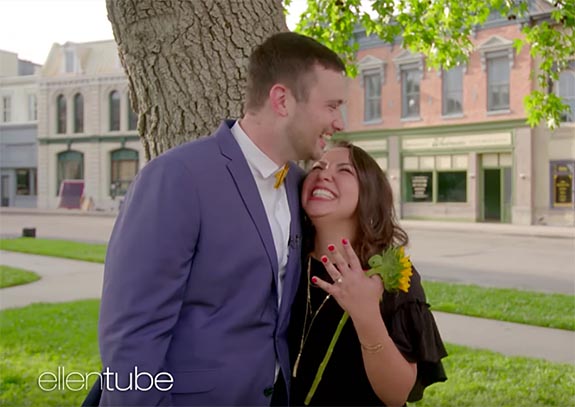 "It was magic," she said.
Check out the full segment of "tWitch, Please... Help Me Dance!" (Episode 2) at this link...
Credits: Screen captures via YouTube.com/TheEllenShow.