Jewelry Blog Rockford, IL
Couples Spent an Average of $5,900 on Engagement Rings in 2019, Reports The Knot February 24, 2020
Couples spent an average of $5,900 on their engagement rings in 2019, according to The Knot's 13th Annual Real Weddings Study. That amount reflected a budget increase of about 4% compared to 2018. The engagement ring continues to be the second-highest-priced item on the list of all wedding expenses (the venue is #1).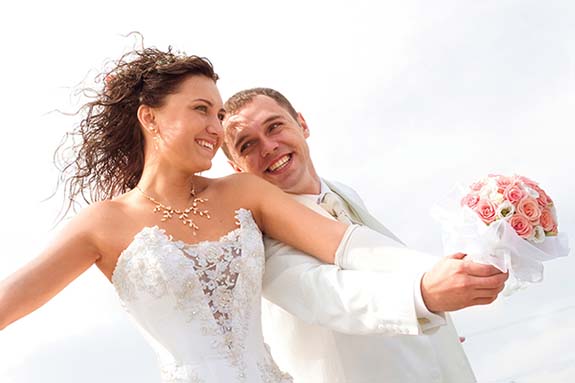 Overall, the average cost to host a wedding ceremony/reception in 2019 remained steady at $28,000, although expenditures varied widely by region. Couples in midwestern locales, such as Columbus ($23,500) and St. Louis ($24,000) reported wedding day costs below the $25,000 threshold, while their counterparts in large northeastern cities, such as Boston ($38,600), Washington, DC ($34,700) and Philadelphia ($34,300) reported day-of wedding costs that were significantly higher. The most expensive place in the U.S. to host a wedding in 2019 was Manhattan, where the average outlay was $83,000.
More than half (51%) of survey respondents said they married someone with a different background (race, religion, ethnicity or geographic location). Many of these couples embraced that diversity by asking their wedding planners, DJs or other wedding professionals to find interesting ways to fuse their respective traditions into the celebration.
From Guatemalan coffee to Chinese-crafted candy boxes, many couples selected wedding favors that reflected something unique about them (Nearly 6 in 10 said they distributed party favors).
While couples continued to embrace long-standing wedding traditions, such as the first dance (90%) and cutting the cake (82%), they also continued to break new ground. The concept of couples writing their own vows is now embraced by 44%.
Exactly 72% of those surveyed said their top priority was ensuring their guests were taken care of and had a good time. Besides the expected food, drink and music, nearly half of all couples provided fun entertainment and activities, such as photo booths, cigar-rolling stations and craft margarita bars, to name a few.
Here are some other highlights from The Knot's 2019 Real Wedding Study...
• Average length of an engagement: 15 months (up from 13.6 months in 2018)
• Average marrying age: 32 years (up from bride, 29.1, and groom, 30.5, in 2018)
• Most popular color: dark blue (this color was second to ivory/champagne in 2018)
• Average guest count: 131 (down from 136 in 2018)
• Percentage that have a destination wedding: 21% (down from 23% in 2018)
The Knot's 13th Annual Real Weddings Study reflects the experiences of nearly 27,000 couples married in 2019.
Credit: Image by Bigstockphoto.com.