Jewelry Blog Rockford, IL
Alrosa Raises Profile in Color Market With Sale of 6-Carat Fancy Intense Pink-Purple Diamond February 25, 2020
In a move that will surely raise its profile in the global market for polished colored diamonds, Russian mining giant Alrosa recently sold a 6.21-carat fancy intense pink-purple stunner to New York-based diamantaire Larry West.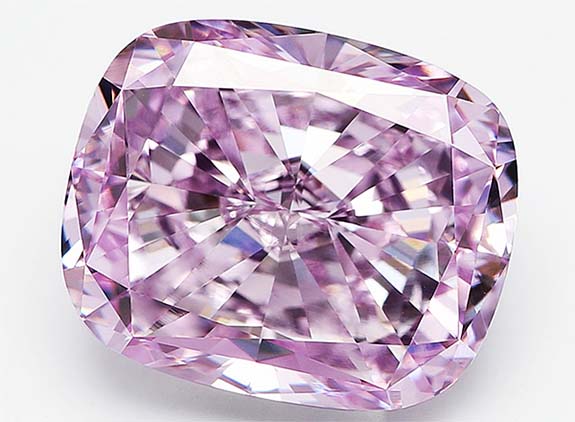 Already the world's leading diamond producer in terms of sheer output, Alrosa is looking to become a major player in a segment of the industry now dominated by Rio Tinto and Anglo American's De Beers — gem-quality colored diamonds. Alrosa's push is coming at a time when Rio Tinto's Argyle Mine in Western Australia — the world's primary source for pink, red and blue diamonds — is tapped out. The mine is scheduled to close some time this year.
"As global production declines, pink diamonds will become rarer and thus more valuable," said West. "This is the first diamond from Russia that I have bought directly from Alrosa. It possesses excellent characteristics and will certainly take a worthy place in my collection."
The cushion-cut stone, which was unearthed at Alrosa's mine in Yakutia, Russia, was subsequently cut and polished by Alrosa's artisans. Alrosa did not disclose the purchase price, but industry insiders report that diamonds with similar characteristics can yield from $1 million to $3 million per carat. That would put the stone's value in the range of $6.2 million to $18.6 million.
"Alrosa deposits are known not only for their colorless diamonds, but also for a variety of rough colored diamonds," noted Rebecca Foerster, President of Alrosa USA. "Our cutter's unique skills allow us to turn them into high-quality diamonds."
Through a new initiative, Alrosa provided West with the gem's digital passport. The document included a detailed visual history of the diamond's extraction and production, as well as information about the cutter's background. What's more, Alrosa's digital platform automatically generated a short film based on information about the diamond.
"A closed production cycle guarantees the origin of each stone and allows us to track its path from its birth in Earth's mantle," noted Foerster. "With these advantages, Alrosa may well become a world leader in the colored diamonds market."
In August of 2019, Alrosa unveiled "The Spirit of the Rose," a 14.83-carat fancy vivid purple-pink diamond, which was also sourced at its mine in Yakutia. An advisory board member of the Fancy Color Research Foundation said the oval stone could sell for $60 million or more at auction. The date of the sale has yet to be announced.
For more than 30 years, the owner of L.J. West Diamonds has scoured the globe for the most extraordinary natural color diamonds in the world. His magnificent collection has been featured in museums, such as the Natural History Museum of Los Angeles County, and at worldwide auctions.
Back in October of 2019, L.J. West Diamonds granted CNBC unprecedented access to its New York City cutting facility to witness the re-polishing of a 5-carat pink diamond — a risky procedure that, if successful, would more than double the stone's value from $3.2 million to $7 million.
The father-son team of Larry and Scott West were betting that the pink diamond they had purchased at auction could be elevated from a from a "fancy pink" to a "fancy intense pink." In the end, their hunch was right.
Credit: Image courtesy of Alrosa.