Jewelry Blog Rockford, IL
Canada's Remote Gahcho Kué Mine Yields Its Biggest Diamond Ever December 23, 2020
A 157.4-carat gem-quality diamond — the largest ever recovered from the Gahcho Kué diamond mine in Canada's Northwest Territories — was revealed on Thursday by the mine's co-owner, Mountain Province Diamonds. Resembling a frosty cube of ice, the rough gem will be offered for sale during the first quarter of 2021.
While the Gahcho Kué diamond mine sold nearly a million carats in diamonds during the fourth quarter of 2020, the great majority were small in size. Mountain Province Diamonds' president and CEO Stuart Brown said that the extraordinary recovery provided his company and employees with a much-needed injection of good news following a year marred by the COVID-19 pandemic.
"The recovery of the largest-ever diamond… was certainly a boost to the morale of the company," Brown said in a statement. "It shows that the mine, although a high-volume producer of predominantly smaller diamonds, does produce diamonds of exceptional size and quality."
The Gahcho Kué Mine is a remote fly-in/fly-out location 280km (174 miles) northeast of Yellowknife. De Beers has a 51% stake in the mine. The property consists of several kimberlites that are actively being mined, developed and explored for future development. It is said to be one of the 10 biggest diamond mines in the world.
The 157.4-carat rough gem unearthed at the Gahcho Kué mine is not the largest ever recovered in Canada. That distinction goes to the "552," a diamond named for its carat weight.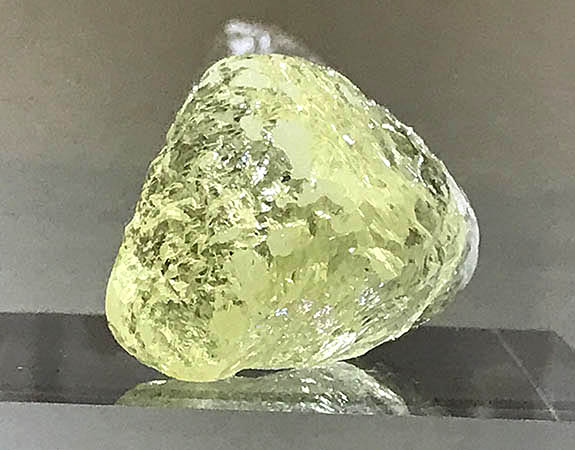 The 552 was sourced by Dominion Diamonds at the nearby Diavik mine in 2018 and famously displayed to the public in February of 2019 at Phillips auction house in New York City.
According to the Canadian government, Canada is the world's third-largest diamond producer, by value, behind Botswana and Russia. Canada exported $2.9 billion in diamonds in 2018.
Credits: Gahcho Kué diamond photo courtesy of CNW Group/Mountain Province Diamonds Inc. "552" images by The Jeweler Blog. Map by Google Maps.