Jewelry Blog Rockford, IL
Birthstone Feature: 540 Carats of Persian Turquoise Shine in the Empress Marie-Louise Diadem December 5, 2018
In honor of turquoise — one of the three official birthstones for December — we shine our spotlight on the Empress Marie-Louise Diadem, a gift from French Emperor Napoleon I to his second wife on the occasion of their marriage in 1810.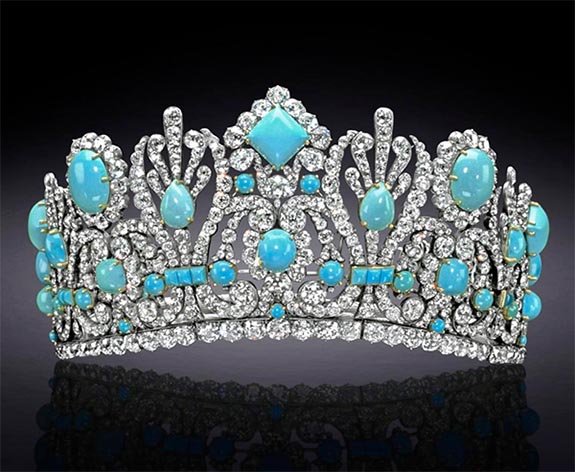 The spectacular piece, which now resides in the Smithsonian in Washington, D.C., features 70 cabochons of Persian turquoise weighing a total of 540 carats, as well as 1,006 old mine-cut diamonds boasting a total weight of 700 carats.
The diadem was one piece in a matching set that included a necklace, earrings and a comb. Interestingly, the emperor's wedding gifts were originally set with emeralds.
According to the Smithsonian, Marie-Louise (1791-1847) bequeathed the diadem and accompanying jewelry to her Hapsburg aunt, Archduchess Elise. In 1953, Van Cleef & Arpels acquired the jewelry from one of Elise's descendants, the Archduke Karl Stefan Hapsburg of Sweden.
During the next two years, the jeweler removed the emeralds from the diadem and sold them individually in other pieces of jewelry. Its advertising campaign at the time promised "An emerald for you from the historic Napoleonic Tiara…"
Some time between 1956 and 1962, Van Cleef & Arpels reset the diadem with beautiful sky blue turquoise. The new-look diadem was exhibited at the Louvre Museum in Paris along with the necklace, earrings and comb, as part of a special exhibition in 1962 focusing on the life of Empress Marie-Louise.
American socialite Marjorie Merriweather Post (1887-1973) purchased the diadem and donated it to the Smithsonian in 1971. (The Smithsonian clarified that a diadem is the type of crown that is not a complete circle. It usually goes three-quarters around and is open in the back.)
Turquoise enjoys a storied history that dates back more than 5,000 years. The ancient Egyptians coveted the gem for its beauty and the belief that it protected the wearer from harm. They set turquoise into elaborate jewelry and carved it into decorative amulets. King Tut's iconic burial mask was inlayed with turquoise. The Egyptian word for turquoise was "mefkat," which meant "joy" and "delight."
The best-quality turquoise is a pure, radiant sky blue. While the earliest known turquoise mines were in the Sinai Peninsula of Egypt, today turquoise is found in the USA, Mexico, Israel, Iran, Afghanistan and China.
Turquoise is one of three official birthstones for the month of December. The others are tanzanite and zircon.
Credit: Photo by Chip Clark/Smithsonian, digitally enhanced by SquareMoose.