Jewelry Blog Rockford, IL
6-Year-Old 'Tiny' Dutton Finds $10,000 Bridal Set, Teaches Big Lesson About Doing the Right Thing October 3, 2018
Six-year-old Alyah "Tiny" Dutton was sure the beautiful diamond rings she found in the restroom of Ballantrae Community Park in Dublin, Ohio, belonged to a magic princess and that they needed to be returned to her right away.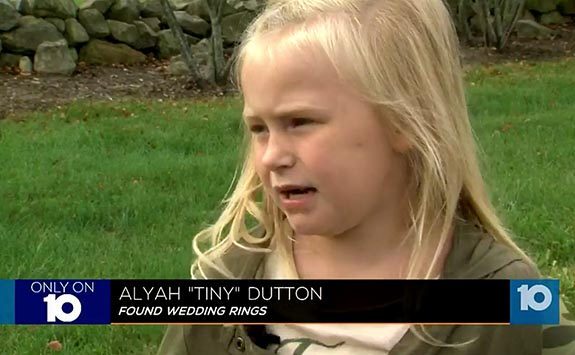 Tiny had been enjoying an outing at the "bunny park" sprayground with family friend John Gerlach when she took a break to use the restroom and happened upon the diamond jewelry worth $10,000. She exited the bathroom and immediately revealed the treasures to John.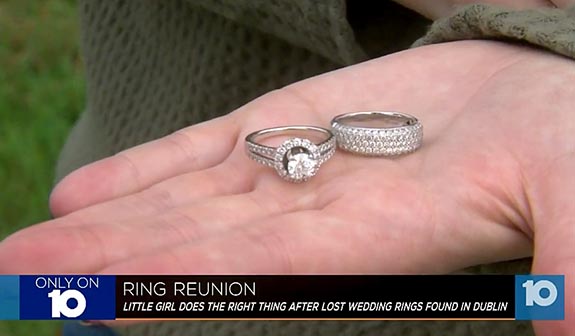 "I told her we have to do the right thing," said John. "They're not ours and what you do when people aren't watching is the integrity and character your mom talks about."
Tiny and John turned over the lost rings to Dublin Police Department. John, who is recovering from addiction, admitted that five years ago those rings would have ended up in the pawn shop. Today, he's a new man.
Earlier that same day, Caitlin Adkins was also enjoying her day at the park with her husband, Jake, and baby, Ari. Before applying sunscreen to the baby, she slipped off the bridal set and placed the rings into the front pocket of her jeans. Then she went into the ladies' room to change into her bathing suit.
When the family returned back home later that evening, Caitin realized her precious keepsakes were gone.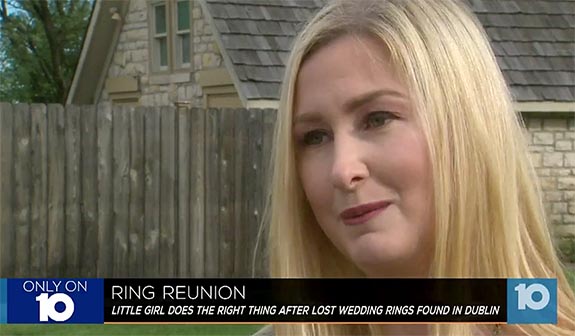 "I was hysterical," she told a reporter from 10TV. "My daughter said, 'Mommy what's wrong? What's wrong?' And I was just like, 'Mommy can't find her rings.'"
In a panic, Caitlin searched her jeans, the car, the stroller.
"I cried knowing I must've lost them at the park when I put my bathing suit on and thought about how special those rings were to me... not monetarily, but what they meant and their significance," she wrote on Facebook.
Jake raced back to the park to see if he could find the rings in the bathroom, but the park had already closed for the night.
He then connected with the Dublin Police.
Caitlin breathed a huge sigh of relief when Jake reported that someone had turned in her rings that day. More surprisingly, that "someone" was a precocious six-year-old who went by the nickname "Tiny."
After being reunited with her rings, Caitlin arranged to meet with Tiny, John and Tiny's mother so she could thank them in person.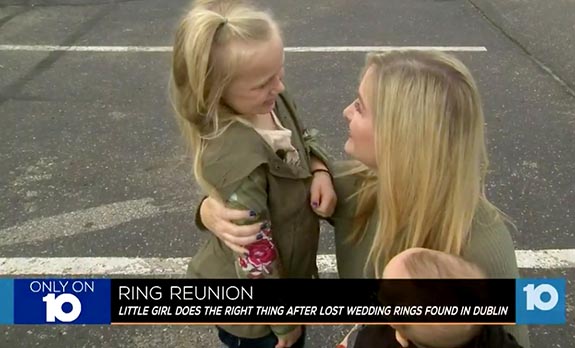 "Can I give you a hug?" Caitlin asked, as the youngster ran into her arms. "Thank you for being so awesome."
Caitlin rewarded the young hero with a carload of gifts.
"I went crazy shopping for you if that's OK," said said. "I just kept on picking stuff."
Tiny giggled with excitement.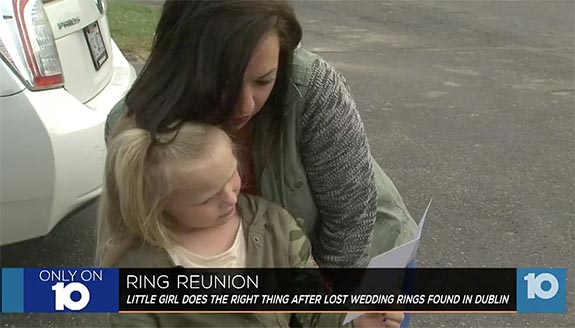 Caitlin also gave Tiny a card, which her mother read out loud: "Thank you so much for being such a special girl. You are going to do so many great things."
Tiny's proud mom kissed the youngster on the head. "I love you," she said.
On Facebook, Caitlin recounted how she found a wedding ring in the parking lot of a local Gymboree 10 years ago and she made sure it was returned to the rightful owner.
"Someone had a choice to do the same today, or not. They did. Thank you," she wrote.
"Tiny and John deserve to be recognized for doing the right thing," Caitlin concluded. "In a day where we judge people, think humanity is lost, and expect the worst, we are shown there [are] good, honest people who are doing the right thing when nobody is looking. Thank you SO much, Tiny and John."
Credits: Screen captures via 10tv.com.