Jewelry Blog Rockford, IL
52 Years Ago: Gold's Amazing Properties Earns It a Trip With NASA to The Final Frontier July 17, 2017
When astronaut Edward H. White II became the first American to step outside his spacecraft and let go, the visor of his helmet was plated with an ultra-thin layer of gold to protect him from the unfiltered rays of the sun. If you look closely at the image below, you'll also notice that his 25-foot lifeline back to the Gemini IV spacecraft was wrapped in gold tape.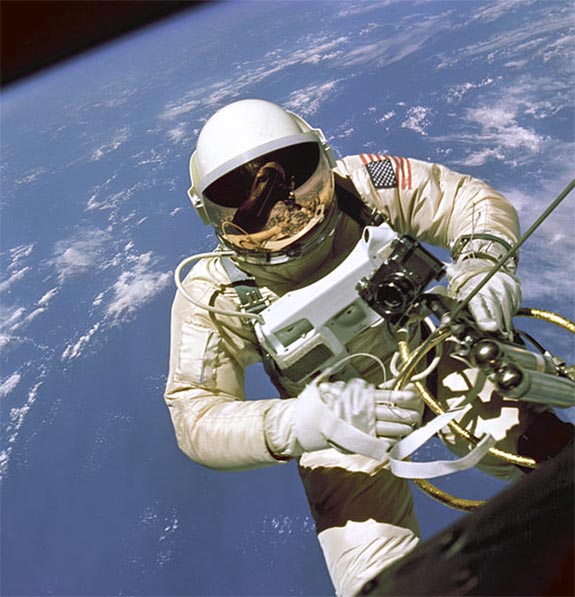 It was 1965 and scientists at NASA depended on gold's amazing characteristics to ensure a safe and successful mission. Gold is highly reflective of heat and light, so NASA scientists coated the visors with a gold layer so thin — 0.000002 inches — that astronauts could see through it.
While gold was a largely unsung hero of America's early space program, man's infatuation with this precious metal can be traced back 6,000 years to the ancient Thracian civilization. Worked-gold objects made around 4000 BC were discovered at a burial site near Varna, Bulgaria.
Despite being enchantingly beautiful, gold demonstrates a wide range of extraordinary properties — qualities well known to the jewelry, electronics, medical and dental industries.
For instance, gold is nature's most malleable metal. That means that it can be pounded so thin that one ounce of gold could cover about 100 square feet of a surface. The American Museum of Natural History (AMNH) calculated that it would take 576 ounces (or just 36 pounds) of gold to completely cover a football field.
Gold leaf typically measures 0.18 microns in thickness (about 7 millionths of an inch), and according to AMNH, a stack of 7,055 sheets would be no thicker than the width of a dime.
Gold is also ductile, which means that it can be made into the thinnest wire. The AMNH notes that one ounce of gold can be drawn into 50 miles of wire, five microns thick.
Of all the gold mined this year, expect 78% of it to be made into fine jewelry. Other industries consume about 12%, and the remaining 10% is supplied to financial institutions. Jewelry designers and manufacturers love to use gold because of its high luster, its ability to be cast into shapes, drawn into wires and hammered into sheets. It possesses a beautiful golden color, but also can be alloyed into many hues, including pink, white and green. And, what's more, it will never tarnish.
Fun fact: The largest accumulation of gold lies 80 feet below street level at the Federal Reserve Bank of New York. The vault houses $147 billion in gold bullion — a bounty that weighs a staggering 5,000 metric tons.
Credit: Image by NASA/James McDivitt [Public domain], via Wikimedia Commons.