Jewelry Blog Rockford, IL
Ultra-Rare 2.11-Carat Fancy Red Diamond Headlines 2017 Argyle Pink Diamonds Tender July 31, 2017
An ultra-rare, 2.11-carat, fancy red diamond known as the Argyle Everglow headlines the 2017 Argyle Pink Diamonds Tender – an annual showcase of the rarest diamonds from Rio Tinto's Argyle mine in Western Australia.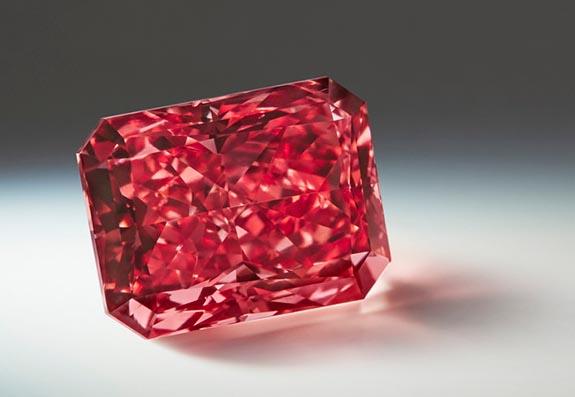 The Argyle Everglow, which earned a grade of fancy red VS2 from the Gemological Institute of America (GIA), is the largest fancy red diamond ever to appear at an Argyle Pink Diamonds Tender. One gem expert told CNN that he believes the radiant-cut gem may sell for $10 million or more.
If the Argyle Everglow achieves that price, it will set a record for the highest price ever paid per carat for a gemstone. The current record is held by the 12.03-carat Blue Moon of Josephine, which sold for $48 million, or a bit over $4 million per carat.
"We are delighted to announce this historic diamond at our Tender preview, a testament to the unique Argyle ore-body that continues to produce the world's rarest gems," noted Rio Tinto Copper & Diamonds chief executive Arnaud Soirat.
Fancy red diamonds are so rare that the Tender typically releases only four, or so, per year. In fact, in the 33-year history of the Argyle Pink Diamonds Tender there have been fewer than 20 carats of fancy red certified diamonds sold.
"The Argyle Everglow represents rarity within rarity and will drive global demand from collectors and connoisseurs in search of the incomparable," added Argyle Pink Diamonds manager Josephine Johnson.
The 2017 Tender, known as "Custodians of Rare Beauty," comprises 58 diamonds weighing a total of 49.39 carats.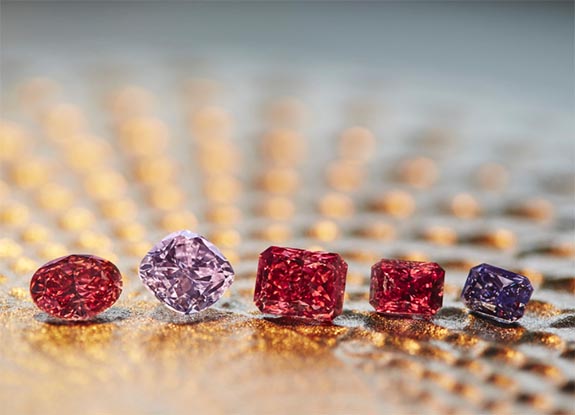 The collection includes five "hero" diamonds selected for their unique beauty and named to ensure there is a permanent record of their contribution to the history of the world's most important diamonds:
• Argyle Everglow™ — 2.11-carat radiant-cut fancy red diamond
• Argyle Isla™ — 1.14 carat radiant-cut fancy red diamond
• Argyle Avaline™ — 2.42-carat cushion-cut fancy purple-pink diamond
• Argyle Kalina™ — 1.50-carat oval-cut fancy deep pink diamond
• Argyle Liberté™ — 0.91-carat radiant-cut fancy deep gray-violet diamond
It is believed that red diamonds get their rich color from a molecular structure distortion that occurs as the jewel forms in the earth's crust. By contrast, other colored diamonds get their color from trace elements, such as boron (yielding a blue diamond) or nitrogen (yielding yellow), in their chemical composition.
The 2017 Argyle Pink Diamonds Tender will be showcased in New York, Hong Kong and Perth with bids closing on October 11, 2017.
Credits: Images courtesy of Rio Tinto.