Jewelry Blog Rockford, IL
Study: Couples Leave Little to Chance When Choosing Engagement Rings November 6, 2019
Couples are leaving very little to chance when it comes to choosing engagement rings, according to The Knot's 2019 Jewelry and Engagement Study, which synthesized the buying habits of more than 21,000 engaged or recently married couples.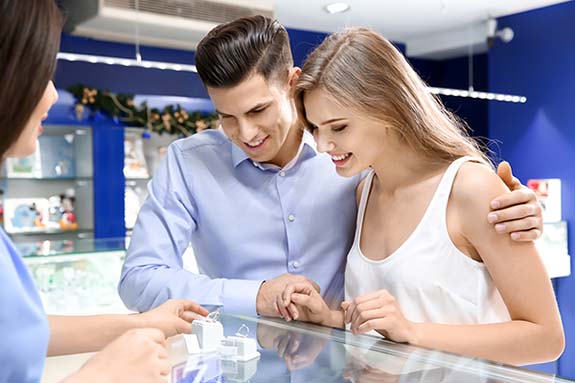 In the study, 7 of 10 "proposees" admit they were "somewhat involved" in selecting or purchasing their engagement ring, and nearly a quarter of that group (23%) say they looked at rings with their partner.
What's more, 78% of proposers say their significant other dropped hints about their ring preferences and nearly one in 10 proposees even report being present when the ring is selected or purchased.
The Knot reported in 2018 that 37% of engagements take place between November and February, so the popular bridal website celebrated the advent of the 2019-2020 "proposal season" by releasing the results of its extensive survey.
Some of the biggest takeaways are that the average cost of an engagement ring in 2019 is $5,900 (up from $5,680 in 2018), the most popular precious metal type is white gold (54%), the preferred diamond shape is round (47%) and social media is the best source for proposees to find ring-design inspiration (80%).
Here's more of what we learned...
• Proposers prefer to purchase their engagement rings from a local independent retail jeweler (40%). The second-most-popular outlet is a national or regional jewelry chain (30%).
• More than 90% purchase the center stone and setting from the same retailer.
• For the proposer, style/setting was the most important feature when selecting a ring, followed by price, then quality. For the proposee, style/setting also came first, followed by cut/shape and then type of stone.
• 7 in 10 proposers report sticking to their budget, while 94% report paying for the ring on their own and 3% say their partner helped contribute.
• The most popular center stones are diamonds at 83%, other precious stones at 10% and colored diamonds at 3%. The most popular "other" precious stones are moissanite (which has nearly doubled in popularity since 2017) at 19%, sapphire at 18%, morganite at 12% and aquamarine at 6%.
• The most popular setting materials are white gold (54%), rose gold (14%), platinum (13%), yellow gold (13%) and sterling silver (7%).
• The round brilliant-cut diamond is favored by 47%, followed by princess/square (14%), oval (14%), cushion (9%) and pearl/teardrop (5%).
• Proposers, in general, are less likely to use social media for ring inspiration. Instead, they rely on friends and family (34%), jewelry designer websites (32%), local brick-and-mortar jewelry stores (29%) and online wedding planning resources (22%).
• The amount spent on an engagement ring varied widely by region: Mid-Atlantic: $7,500; New England: $6,900; Southwest: $5,600; West: $5,500; Southeast: $5,400; Midwest: $5,300.
• The average men's wedding band costs $510 and the majority are made of tungsten (23%), followed by white gold (21%). The average women's wedding band costs $1,100 and the majority are made of white gold (52%), followed by rose gold (15%).
In addition to their purchasing preferences, The Knot also asked couples about how their proposals went down...
• 22% of couples connected using online dating websites or apps, up 5% from 2017; 19% met through friends; 17% at school; 13% through work; and 11% via a social setting.
• 71% dated for more than two years before getting engaged.
• The majority (67%) of engaged couples are between the ages of 25 to 34.
• 87% of engagements are planned ahead of time, while 13% are spontaneous.
• 40% of proposals are planned one to three months in advance and 17% are planned four to six months in advance.
• Nearly 90% of proposers ask their partner to marry them with a ring in hand, 87% say the words "will you marry me," 84% ask on bended knee and 71% ask their partner's parents for permission before proposing.
• Almost 50% of those proposing believe the proposal was a complete surprise to their partner, while only 33% of proposees say it actually was.
• Directly following the proposal, 75% call friends and family and 72% send them photos of their ring. Additionally, 92% share the news on social media.
Credit: Image by BigStockPhoto.com.