Jewelry Blog Rockford, IL
Stay Cool This Summer With Frozen Treats That Resemble Colorful Gemstones June 25, 2019
Here's a super-fun product for gemstone lovers looking to stay cool this summer. The "Koji Ring Popsicle Mold" allows you to create frosty faceted confections from your favorite fruit juice, yogurt, smoothie, pudding or even chocolate.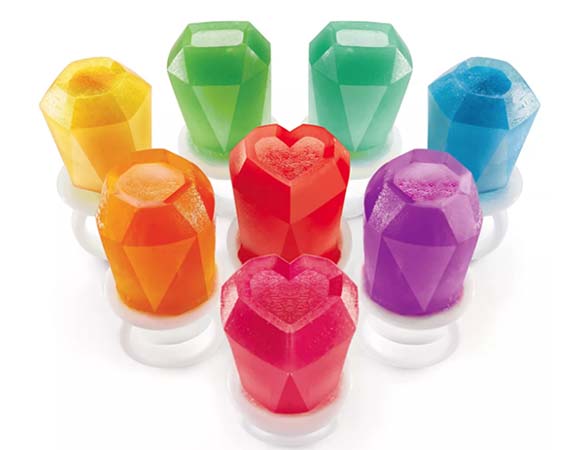 Imagine how much a youngster would enjoy a Koji Ring glistening with a super-sized purple "amethyst" made from grape juice or a vivid "yellow diamond" that tastes so much like a mango smoothie. And for those of us who are young at heart, how about a green tea-flavored frozen "peridot" or a hazelnut coffee "topaz." The possibilities are as vast as one's imagination.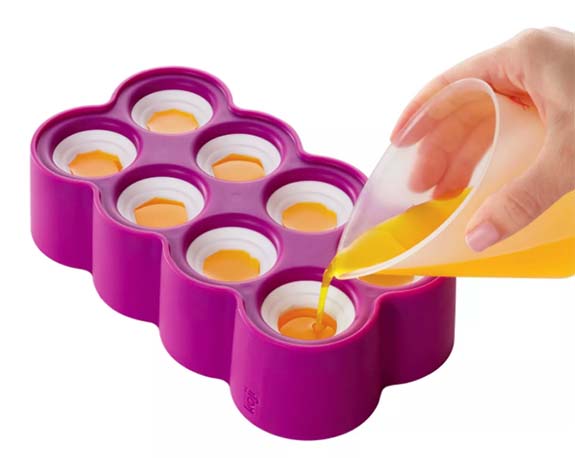 The wearable pops are the frosty cousin of the popular Ring Pop, a jewel-shaped candy ring that has been employed by more than one future groom as a temporary stand-in for an actual engagement ring.
The "Koji Ring Popsicle Mold" kit, which has a list price of US$14.99, comes with a mold base, eight Jewel Pops in four unique shapes, and eight "ring" handles with drip guards.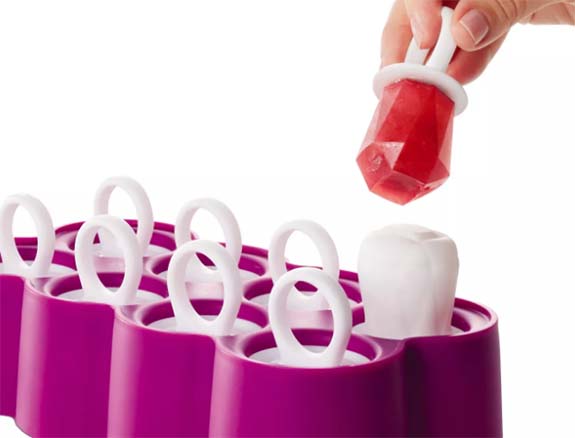 Each frozen pop can be easily removed by simply pulling on the ring. The silicone mold inverts and then "pop" — the frozen treat releases from the mold.
The kit is currently on sale at Target.com for US$9.99.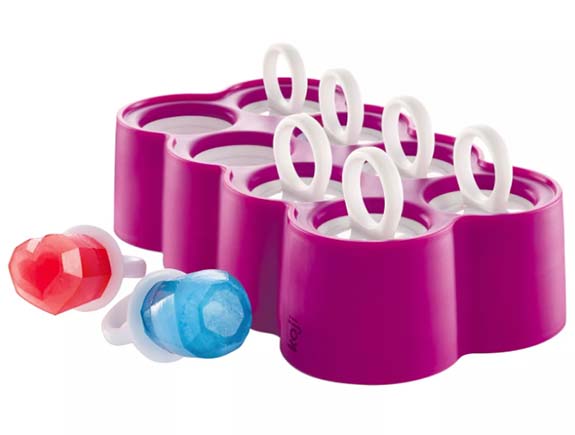 This fun product has been racking up an impressive number of five-star reviews.
Wrote one satisfied grandmother, "I bought this for my daughter and grandchildren. They love them. Easy to make healthy fruit popsicles for the kids. We try all different healthy varieties and flavors. The ring pop concept is so cute and is the reason I actually purchased them. As a child, my daughter loved on special occasions getting a Ring Pop treat. Now, instead of the Ring Pop being a sugary snack, she makes a delicious, healthful treat. Also the pops remove easily from the form. We love these!!!"
The Koji product also seem to be a hit with new moms challenged with teething tots.
Wrote Jollymommy: "This is perfect for baby!! I was looking for a way to make homemade pops for baby, but most molds are too big! When I saw this it looked perfect. It works for babies and for kids, because they look just like Ring Pops! The pop comes out easily after being frozen, and clean up is super easy. I was so happy to get this, especially at the price!
Credits: Images via Target/Koji.