Jewelry Blog Rockford, IL
Set With 462 Pink Diamonds, 'The Ultimate' Coin Could Fetch CAD$900K at Auction May 9, 2022
The Royal Canadian Mint is about to auction "The Ultimate," a one-of-a-kind, 1 kilogram platinum coin embellished with 462 ultra-rare pink diamonds from the world-famous Argyle diamond mine. Although it has a face value of CAD$2,500, the coin is expected to fetch as much as CAD$900,000 ($697,300) at the Heffel Fine Art Auction House in Toronto on May 31.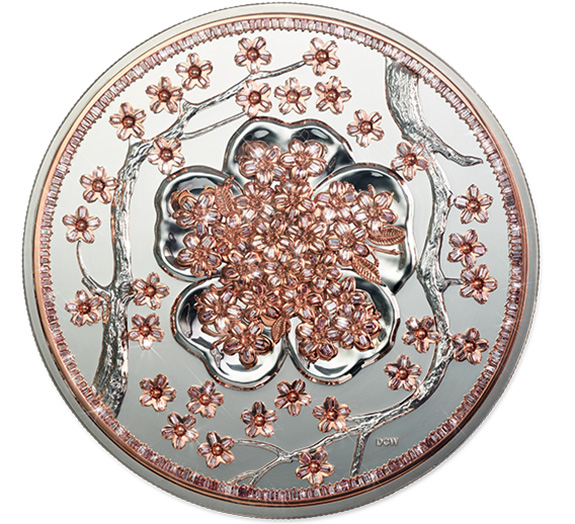 The Mint describes the coin as a masterfully engraved work of art rendered on a canvas crafted from the purest platinum, and adorned with hundreds of the world's rarest diamonds. The 462 pink diamonds weigh a total of 6.5 carats and each diamond carries a color grade of Fancy Vivid or Fancy Intense. The coin is crafted of 99.95% pure platinum with a proof finish. The 1-kilogram coin is equivalent to 35.27 ounces or 2.2 pounds.
The rarity of the pink diamonds featured on the coin is amplified by the fact that Rio Tinto's Argyle Mine — which famously produced between 90% and 95% of the world's pink and red diamonds during its 37 years of production — officially ceased operations on November 3, 2020. During its long run, the mine in western Australia produced more than 865 million carats of rough diamonds, but pink diamonds represented less than 1% of that total output.
Measuring 101.6 mm (4 inches) in diameter, The Ultimate features a reverse design by Canadian artist Derek C. Wicks that brings the beauty of the cherry blossom to life and blurs the line between coin and jewelry art.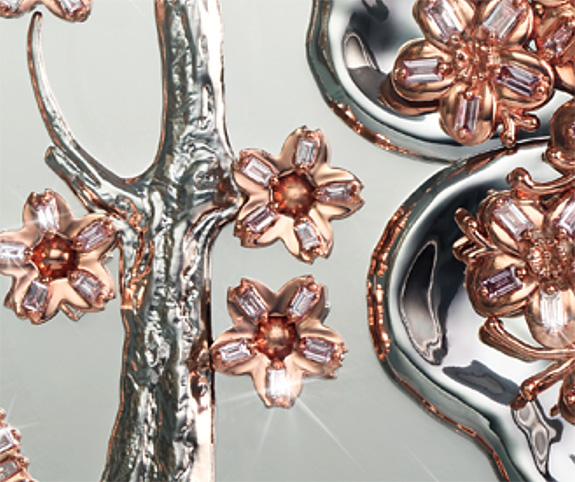 The pink diamonds add sparkle to the rose gold-plated rim and the petals of more than two dozen flowers, including the central bloom, where the gem-set blossoms form an exquisite clustered bouquet. The diamonds were painstakingly hand set by Canadian manufacturer Beverly Hills Jewelers.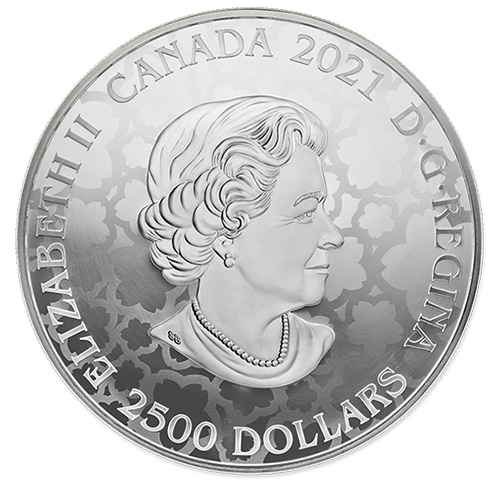 The obverse features a cherry blossom field pattern and the effigy of Her Majesty Queen Elizabeth II by Susanna Blunt.
Housed in a luxury cabinet-style case featuring a highly polished piano finish and silver hardware, The Ultimate comes with a welcome letter from the Mint's CEO, along with a pair of gloves for safe coin handling.
The Ultimate headlines a new line of gold and platinum Opulence coins that pay tribute to the legacy of Rio Tinto's Argyle Mine. "Treasure," "Grandeur" and "Splendour" will also be offered in limited quantities.
• The 10 oz. Splendour 99.95% platinum coin has a face value of CAD$1,250 and a worldwide mintage of five.
• The 2 oz. Grandeur 99.95% platinum coin has a face value of CAD$350 and a worldwide mintage of 30.
• The 1 oz. Treasure 99.95% platinum coin has a face value of CAD$200 and a worldwide mintage of 400.
Credit: Images courtesy of The Royal Canadian Mint.