Jewelry Blog Rockford, IL
San Diego Padres' 'Swagg Chain' Honors Home Run Hitters and Player of the Game June 7, 2021
Borrowing an idea from college football's Miami Hurricanes, the San Diego Padres recently unveiled the "Swagg Chain," a 10-inch tall, two-inch thick pendant emblazoned with 8,000 yellow and brown semi-precious stones. A player gets to wear the pendant if he hits a home run or is chosen as the Player of the Game. The piece features a spinning "SD" logo.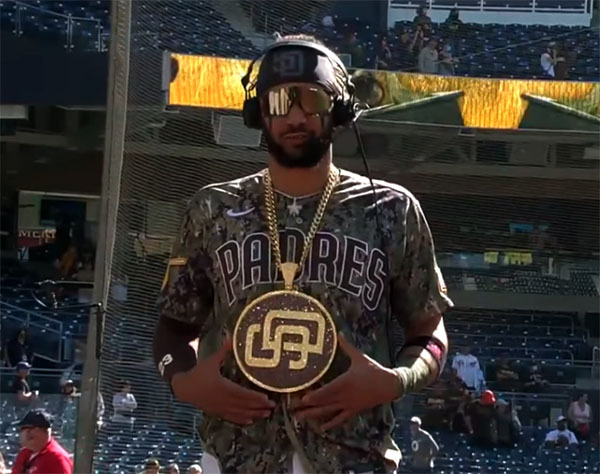 Made from 3,500 grams (7.7 pounds) of gold-plated sterling silver, the "Swagg Chain" resulted from a collaboration between Padres third baseman Manny Machado and New York-based luxury jeweler Gabriel Jacobs, who owns Rafaello & Co.
Jacobs pitched the idea to his long-time friend Machado during spring training in Arizona.
The jeweler told Fox 5 San Diego that he wanted to bring some swag to Major League Baseball.
"It's the oldest pastime sport in America," he said. "We wanted to give it a little flair, a bit of excitement, you know?"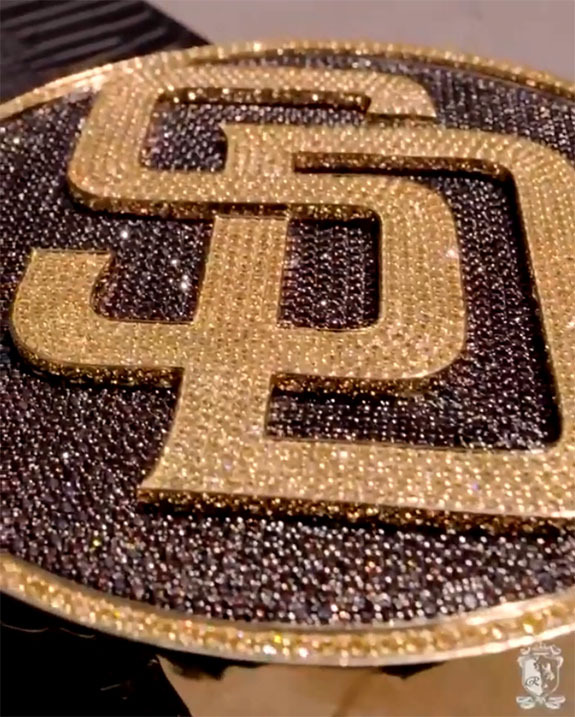 Jacobs said that he and Machado traded design ideas, sending pictures back and forth. It was Machado's idea to include the spinning "SD" feature.
Back in 2017, the University of Miami football team introduced the "Turnover Chain," a massive, gem-encrusted pendant that was awarded to a defender who made an interception or fumble recovery. The chain featured a diamond-encrusted "U" hanging from a Cuban link chain. Shaped like the state of Florida, the 2020 edition of the chain was dotted with 4,000 orange, green and white sapphires set in 10-karat yellow gold.
In late May, slugger Fernando Tatis wore the "Swagg Chain" after the Padres' 9-2 victory over the Seattle Mariners, a game that included two Tatis dingers.
"Oh man, it's amazing. We played good, and we deserve to look good," Tatis said of the new bling. "It's team bonding. We're pushing for each other and we're just having fun so far."
Despite being pressed by a Fox 5 reporter, Jacobs would not reveal the value of the "Swagg Chain."
Credits: Screen captures via Youtube.com; Instagram.com/rafaelloandco.