Jewelry Blog Rockford, IL
Runner Gets Engaged Seconds After Completing the Pittsburgh Marathon May 8, 2019
Pittsburgh-area resident Stephanie Solt captured two prizes at the finish line of last Sunday's Pittsburgh Marathon — a medal for completing the grueling 26.2 mile race and a diamond engagement ring from her boyfriend, JT Mylan.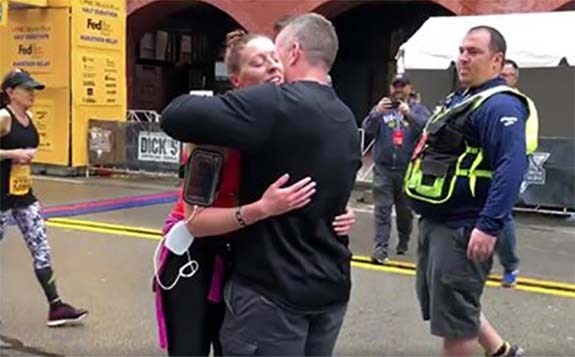 Mylan went down on one knee and popped the question just seconds after Solt turned in a time of 4 hours, 55 minutes.
With about six miles remaining in the race, Solt had seriously considered calling it quits. She was exhausted and her right knee was throbbing.
But, whatever doubts she harbored at that time were overcome by the encouragement of total strangers. Maybe, instinctively, they all knew that this race would be life changing.
"The people on the sideline kept cheering me on and calling me by the name I had on my bib," the 25-year-old told triblive.com. "[They were] giving me high fives and just pushing me along. It was just amazing."
Overwhelmed by their support, Solt said that she was almost in tears as she powered through the Boulevard of the Allies, the home stretch to the finish line.
As she crossed the finish line, Solt was diverted by a security guard away from the other runners and toward her boyfriend.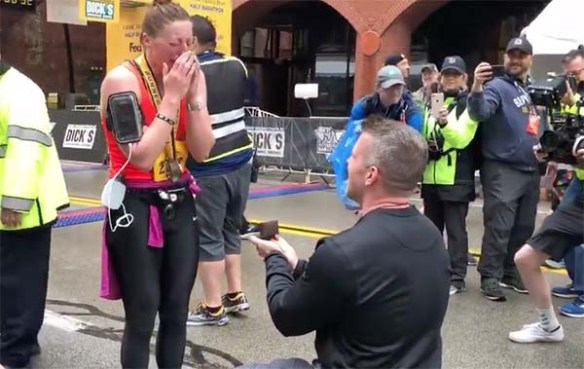 "And here's JT at the finish line and I'm like 'What are you doing here?' He puts the medal on me and pulls out the ring and goes down on one knee, and I said 'Oh my goodness!' I was speechless," Solt told triblive.com.
Pittsburgh Public Safety posted a video of the emotional scene on its
Facebook page
.
Mylan, 32, said that he counted on a bunch of workout buddies to help him through the planning. One friend suggested that he pop the question at the marathon and a second friend, who was set to work security at the marathon, said he could get JT behind the finish line. A third buddy hooked him up with a photographer who would document the momentous event.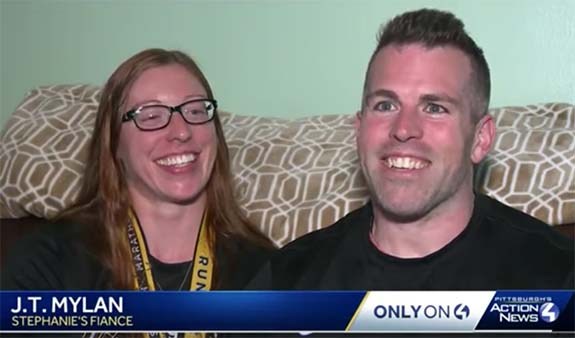 "When the universe lobs you an easy one, you might as well take it," Mylan said.
Solt said she is ecstatic that she gets to marry her best friend. The couple is planning a spring 2022 wedding, which coincides with her graduation from physical therapy school. Mylan is a health and physical education teacher.
Credits: Screen captures via Facebook.com/Pittsburgh Public Safety; YouTube.com/WTAE-TV Pittsburgh.