Jewelry Blog Rockford, IL
Queen Elizabeth II Wears Spectacular Sapphire Jewelry in New Portrait October 19, 2020
Queen Elizabeth II is wearing a spectacular sapphire ensemble in an official portrait released by the Government of Canada. The 94-year-old monarch, who was separately proclaimed the Queen of Canada when she ascended to the British throne in 1953, is bedecked in a famous series of pieces called "The King George VI Victorian Suite."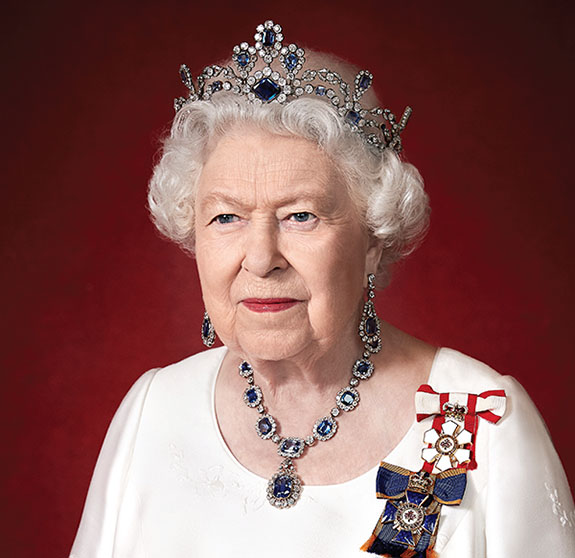 Included in the suite is a necklace, earrings, bracelet and tiara. Dangling from her ears and neckline is glittering sapphire jewelry gifted to Elizabeth by her father, King George VI, as a wedding day gift nearly 73 years ago.
The mid-19th century necklace was originally designed with 18 sapphire clusters, framed by round diamonds and spaced by an individually diamond. In 1952, the necklace was shortened by four links.
Seven years later, the Queen took the largest cluster and had it transformed into a hanging pendant, which doubles as a brooch. Each pendant earring highlights a large teardrop-shaped sapphire surrounded by smaller round diamonds. All the gemstones are set in gold.
In the early 1960s, the Queen added a matching sapphire bracelet to the ensemble.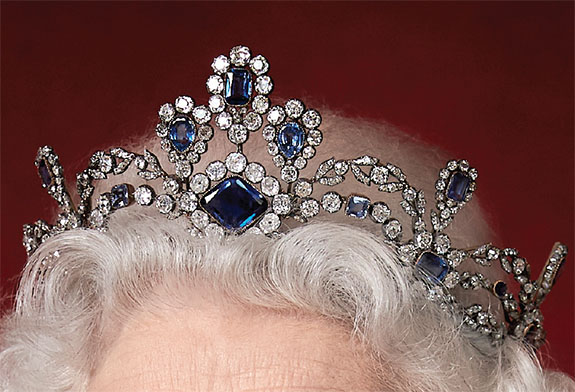 On her head is the "Belgian Sapphire Tiara," which the Queen purchased in 1963. The headpiece, which is sometimes called the "Victorian Sapphire Tiara," had been refashioned from a 19th century necklace once owned by Princess Louise of Saxe-Coburg and Gotha (born Princess Louise of Belgium).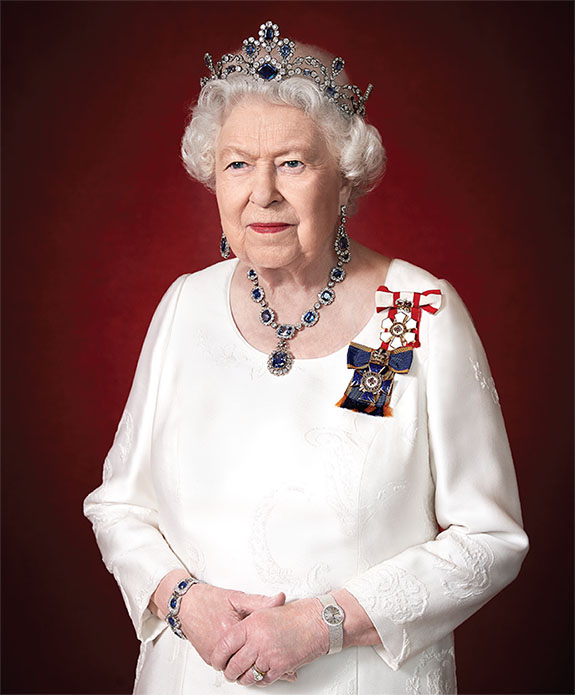 In the photo, the Queen's white dress is adorned with two important pieces of Canadian insignia: the Sovereign of the Order of Canada and the Order of Military Merit. The Order of Canada is Canada's highest civilian honor and The Order of Military Merit recognizes distinctive merit and exceptional service displayed by the men and women of the Canadian Armed Forces. The Queen is its highest-ranking member.
The new portrait of the Queen will be displayed in government buildings, schools and embassies in tribute to Canada's ties to the Queen through the Commonwealth.
The official photo was taken at Windsor Castle in the UK by photographer Chris Jackson, who proudly shared it on his
Instagram
account along with this caption: "It was an incredible honor to have the opportunity to photograph HM Queen Elizabeth II on behalf of the Canadian Government for her official Canadian Portrait that has been released today. I've been lucky enough to have visited Canada many times now with members of the Royal Family and have the fondest memories of the people I've met and the incredible, vast and beautiful country that I've been privileged to get to know a small part of over the years."
The Queen broke the record as the longest-reigning British monarch in September 2015. She had ascended to the throne on February 6, 1952, upon her father's death at the age of 56. The Queen received the sapphire suite when she wed Prince Philip, Duke of Edinburgh, on November 20, 1947. The Prince turned 99 on June 10.
Credits: Photo of Her Majestic Queen Elizabeth II, Queen of Canada, by Chris Jackson/Getty Images, courtesy of the Government of Canada. Official Canadian Portrait 2019 © All Rights Reserved.