Jewelry Blog Rockford, IL
One of These Teams Will Finally See Some New Super Bowl Bling After Long Drought January 23, 2020
When Patrick Mahomes and the Kansas City Chiefs match up against Jimmy Garoppolo and the San Francisco 49ers in Super Bowl LIV on February 2 in Miami, the teams will be vying for championship bling their franchises haven't seen in a combined 75 years.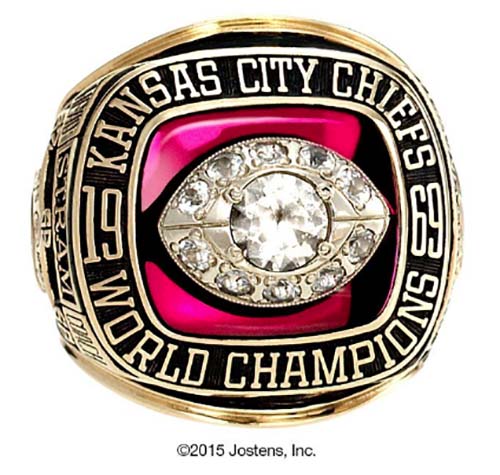 It was exactly 50 years ago when Len Dawson led the Chiefs to victory against the Minnesota Vikings in Super Bowl IV. To mark their first and, to this day, only Super Bowl championship, the players took home a simple keepsake featuring a large single diamond surrounded by smaller diamonds in a football motif. The rest of the ring gives off a class ring vibe, with raised gold lettering against a black ground.
The National Football League maintains an unwritten rule that teams with multiple Super Bowl victories get to design the most extravagant rings. The more Vince Lombardi Trophies, the bigger the ring. Since the Chiefs earned only one title, the design evolution of their ring started and ended in 1970.
It's a much different story for the 49ers, a team that dominated the NFL throughout the 1980s and early 1990s. The team won championships in 1981 (Super Bowl XVI), 1984 (XIX), 1988 (XXIII), 1989 (XXIV) and 1994 (XXIX).

As you can see from the images, above, the ring gradually got more ornate as the team collected more trophies. The team's first-ever ring featured a large round diamond in the center of a football motif, with 14 diamonds comprising the outer edge of the ball. Each subsequent championship ring used marquise-shaped diamonds to represent the Lombardi Trophies.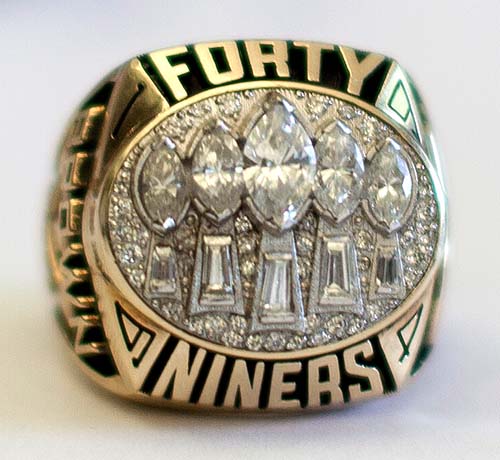 If the 49ers prevail in Super Bowl LIV, the team will tie the New England Patriots and Pittsburgh Steelers for the most Super Bowl victories at six. It's our guess that even though 49ers haven't raised a trophy in 25 years, their championship rings should be in the same stratosphere as the ones awarded to the Patriots last year.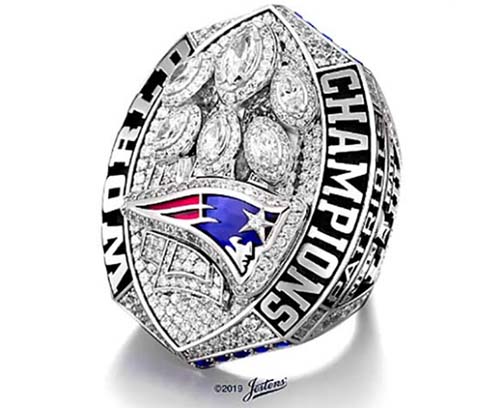 Those over-the-top Jostens-designed rings featured 422 diamonds weighing 8.25 carats and 20 blue sapphires totaling 1.60 carats.
If the Chiefs are the victors, we're guessing that their rings will be more modest, with the red "KC" logo rendered in rubies and the white "arrowhead" rendered in diamond pavé. The ring will likely feature two large marquise-shaped diamonds to represent the franchise's two Lombardi Trophies.
The NFL typically awards 150 rings to the Super Bowl victor and allocates approximately $7,000 per ring — although teams with multiple Super Bowl victories are allotted a higher budget for diamonds. Teams often create "B" and "C" level rings — designs with faux diamonds or fewer diamonds — for distribution to the front office staff. The rings are usually presented to the players some time in June.
Credits: Chiefs Super Bowl ring, 49ers Super Bowl XIX, XXIII, XXIV rings by Jostens. 49ers Super Bowl XVI via Goldin Auctions. 49ers Super Bowl XXIX ring by Owen Byrne [CC BY] via Wikimedia Commons.