Jewelry Blog Rockford, IL
Olympic Athletes Are Linked to Diamonds in a Series of Ads Airing During the Winter Games February 19, 2018
Olympic athletes are visually and emotionally linked to diamonds in a trio of compelling ads now airing during the coverage of the 2018 Winter Games in Pyeongchang, South Korea.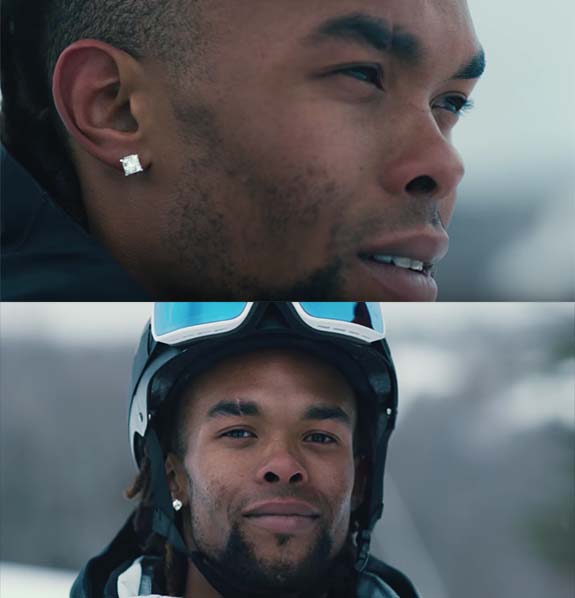 Conceived by the Diamond Producer's Association's 'Real is a Diamond' platform in partnership with The NBCU Content Studio, "The Making of a Gem" commercials tell the story of young athletes on the rise. In their own words, athletes representing the sports of snowboarding, women's ice hockey and pairs figure skating speak of their journeys to achieve greatness.
Each of their narratives include words and phrases commonly associated with diamonds. In fact, one can easily imagine the story being told from the diamond's point of view.
Here's an example from the snowboarding script...
"I can do this. I can handle intense pressure. I can stand up against unimaginable heat. That makes me strong. Gives me an edge. And even when I'm rough, unpolished, with all my imperfections, I'm still flawless. That's what makes me unique. What about you?"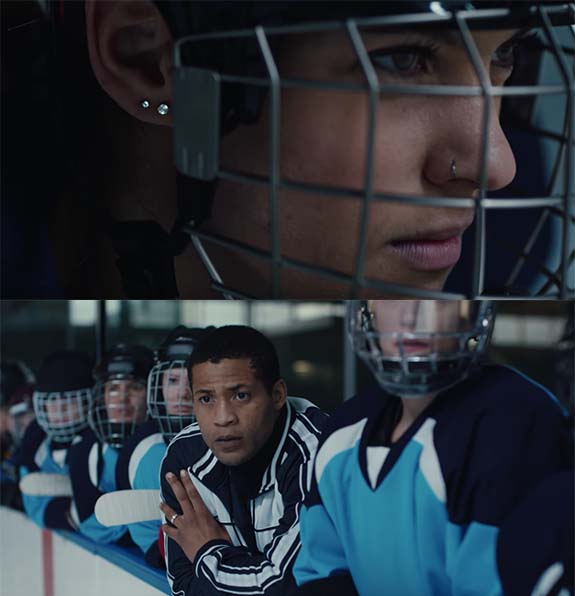 And the hockey script...
"We were made this way. We were made strong. Commitment helped us dig deeper. Focus sharpened our edge. And even when we were vulnerable... we never stopped being invincible. They tried to crush us. But our bond is unbreakable."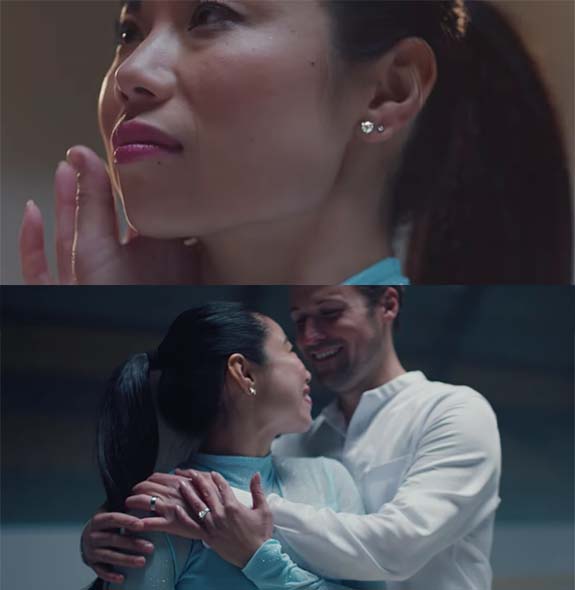 And the figure skating script...
"I've spent most of my life in the dark, unseen by the world. The longer I waited, the more intense the pressure became. Until, like a force of nature, I finally broke free. And where before I was hidden, today I have the support of the world who never lets me forget that with love, might and a little polish... I shine."
"The breadth of common themes was surprisingly rich and made for seamless and layered storytelling," said Deborah Marquardt, Chief Marketing Officer for the Diamond Producer's Association.
Stylist Tanya Dukes chose the featured jewelry, explaining, "In each film, we styled the athletes in realistic, current diamond jewelry that they'd actually wear, including some of their own pieces. The jewelry was an authentic part of their personal style."
The snowboarding ad, for instance, shows the male athlete wearing a princess-cut stud earring and a spider-shaped diamond pendant. The hockey-themed ad shows twin diamond stud earrings on the female athlete and a diamond wedding band on her male coach. In the pairs figure skating ad, the female athlete is wearing twin diamond stud earrings and a diamond engagement ring. Her partner (presumably her husband) is wearing a wedding band.
Of the three ads, the women's hockey version is getting the highest engagement (7.9), according to ad tracking service Ispot.tv. The snowboarding ad is second with a 7.7 and the figure skating ad is third at 7.0.
"The Making of a Gem" series is being distributed through NBCUniversal's portfolio-wide platform across social media, video programming and the company's strategic partnerships with Apple News and Vox Media. Videos and supplemental content will also run on Real is a Diamond-owned and -operated channels, as well as in cinema.
Each of the videos is below...
Snowboarding
Credits: Screen captures via YouTube.com/Real is a Diamond.