Jewelry Blog Rockford, IL
New Mexico Woman Finds Diamond Ring in Tub of Vicks VapoRub February 6, 2018
We'd hardly be surprised to find a prize mixed into a Cracker Jack box or a fun toy buried in a specially marked package of Lucky Charms, but a diamond ring immersed in a tub of Vicks VapoRub? Now, that's a curiosity.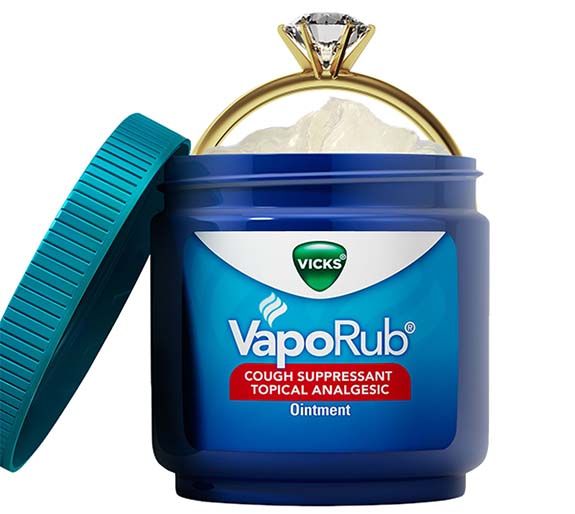 Last week, Albuquerque, N.M., resident Sharon Roybal fished a 10-karat diamond ring out of an old jar of the mentholated topical ointment — and she's not quite sure how the ring got there or who it belongs to.
Roybal told local NBC affiliate KRQE that she had used the ointment to care for her mother, who has since passed away. In fact, her mom's room — along with the jar of Vicks — had been left undisturbed for the past four years.
Recently, Roybal went to use the ointment in her mom's room and was shocked to see a diamond ring suspended just below the surface.
While one would assume that the ring might be her mom's, Roybal was certain that it wasn't.
"I was with my mom 24/7, I cared for her. I took care of her and my dad, this is not her ring," Roybal told KRQE.
Determined to find the rightful owner, Roybal contacted the Vicks company, which has been owned by Procter & Gamble since 1985. A company representative offered to investigate the case of the Vicks VapoRub ring and asked Roybal to send the jar and the ring to their headquarters. The representative told her the ring was likely lost during the packaging process.
Interestingly, Vicks VapoRub is currently manufactured and packaged in India and Mexico. Since Indian consumers favor higher karatages of gold, we might assume that the 10-karat ring was lost at Vicks' Mexican factory.
For now, Roybal has decided to keep possession of the ring and the old container of Vicks VapoRub.
"The Vicks bottle is sentimental because it's [a memory of] my mom and dad," she told KRQE. "The ring is someone else's special memory and I would like to get it back to them."
She's hoping that her story will wind its way to the person — possibly in Mexico — who lost the ring many years ago.
Credit: Illustration by The Jeweler Blog with images via Vicks.com and BigStockPhoto.com.